Healthcare has undergone tremendous transformation in recent years with the advent of new and emerging technologies. To address the challenges faced in improving overall quality care for patients, doctors, hospitals, and small clinics have implemented new technologies to respond to the changing environment with high-tech medical facilities and talented professionals. It is important to partner with right Information Technology (IT) provider to fully realise the benefits of IT in healthcare. IT services can help in reducing medical errors, comply with new and evolving regulations, aid in the recovery from any unexpected technology-related disasters, as well as increase our ability to save, share and analyse health information.
Impact of IT in Healthcare:
Digitalization of health records.
Better patient care.
Makes workflow easy.
Improves healthcare system & public health.
Reduces cost.
Improves efficiency and quality. 
Prevents death due to negligence & human errors.
Helps in developing new drugs and treatment.
Big data and the cloud system processes and secures data.
Artificial intelligence can bring breakthroughs in medicine.
Reduces risk of medical records hacking with secured standard network system.
Mobile health
2. The role of IT in Healthcare:
Information technology is all about communication. The core of IT in healthcare is to establish communication between devices, team members, between patients and medical service providers, and between other medical facility centres in a secured manner. Healthcare standards, Patient privacy rights are at most priority along with patient well-being. So, establishing a trustworthy secure network which is transparent and easy for doctors & staff to use, restricting unauthorised users should be provided by Healthcare IT services. 
3. Benefits of IT in healthcare:
Technology facilitates integration of health information into healthcare and supports almost every function of a delivering seamless care to patients both within and outside of medical facilities. There are many exciting benefits of IT on the horizon which creates opportunity and add value to healthcare services. 
Electronic Health Record (EHR) system is a boon to doctors and staff to record crucial patient health data and rely seamlessly and share data with other healthcare providers. Some of the other benefits are listed below: 
Quality of care: Technology plays a key role in today's medical facilities. Well-designed and reliable technology frees up time for the medical staff to focus on patients and help them monitor patients through robust monitoring devices. 
Accuracy: Error free service is inevitable to any healthcare provider. Technology can help and ensure this with fewer medical errors. Reduced errors bring trust, decreases cost, and save lives. 
Security and privacy: When communicating vital patient-specific security and privacy of the information is crucial and should be those critical measures should be established by setting up network security by healthcare service providers. It is not about meeting the regulations and requirements but building trust and protecting the privacy of patient healthcare records. A secured data system can bring credibility and reputation. 
Reduces costs: If healthcare is integrated with right IT providers it can save money, gives an advantage in serving patients at low cost and help facilitate smooth functioning, automating repetitive tasks, manages a large data and make it quickly available to staff when needed on time.
Collaboration: Collaborating at work with different teams for possible care of patients, needs access to the information. Seamless technology collaboration on network builds active collaboration on time with various department for sharing information. 
Recovery from disaster: When there is a power outage or hardware fails, failing hard drive, technology should ensure speedy recovery of systems and data is too important in the event of disaster.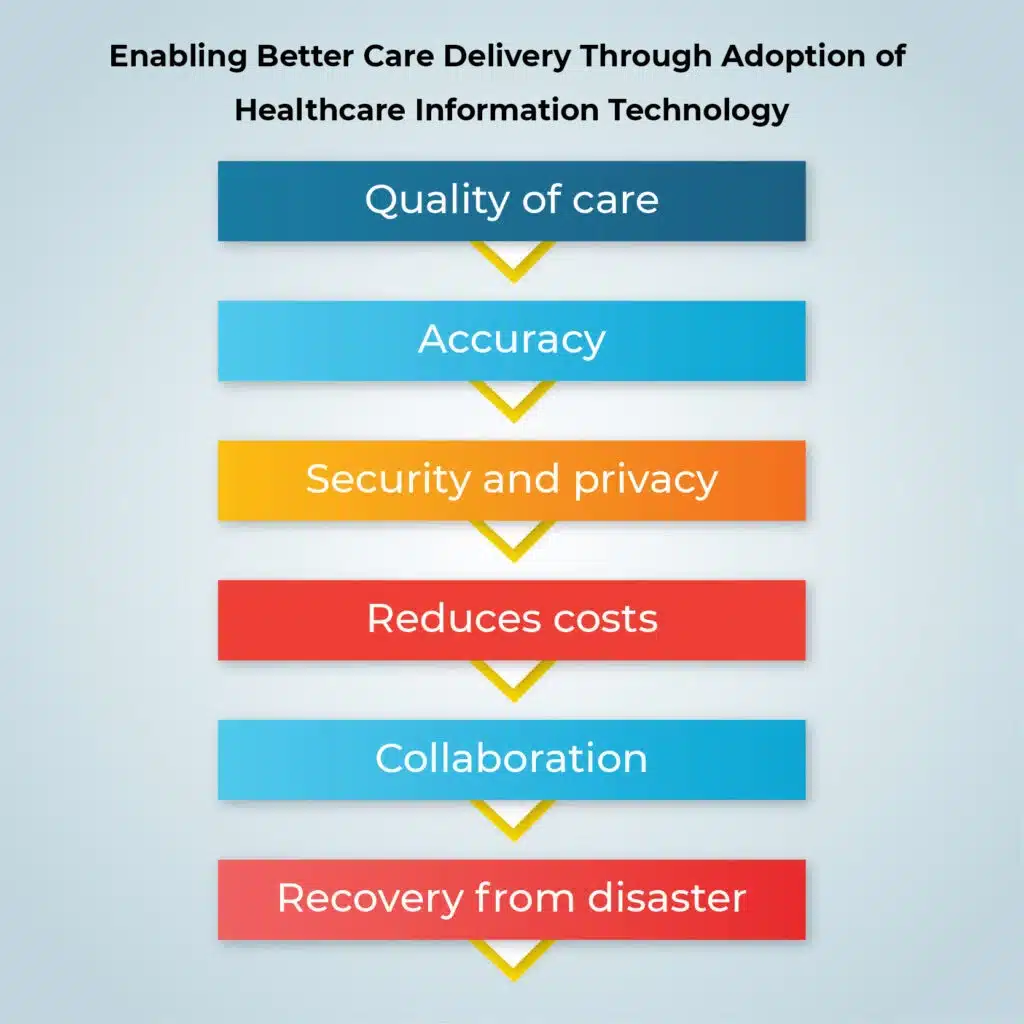 4. Concerns with IT in Healthcare:
The main concern doctors express, and highlight is about the value of health information shared. 
The interoperability between EHR systems.
Doctors complain that EHRs take a lot of time to read and update data while reducing time for patient care.
A well-integrated healthcare IT support system should address all the concerns mentioned above and should bring intuitive, user friendly interfaces. Ezovion can help build such reliable healthcare ecosystem from the ground up, build standards for reliable networking, interoperability with carefully constructed systems for usable and accessible EHRs. 
5. Conclusion 
Information technology is important in the healthcare industry, as it improves the quality of care that patients receive, enables smooth flow of information about patients to doctors, staff & patients, and supports shared decision making between healthcare professionals and patients. IT improves the overall health of the population!