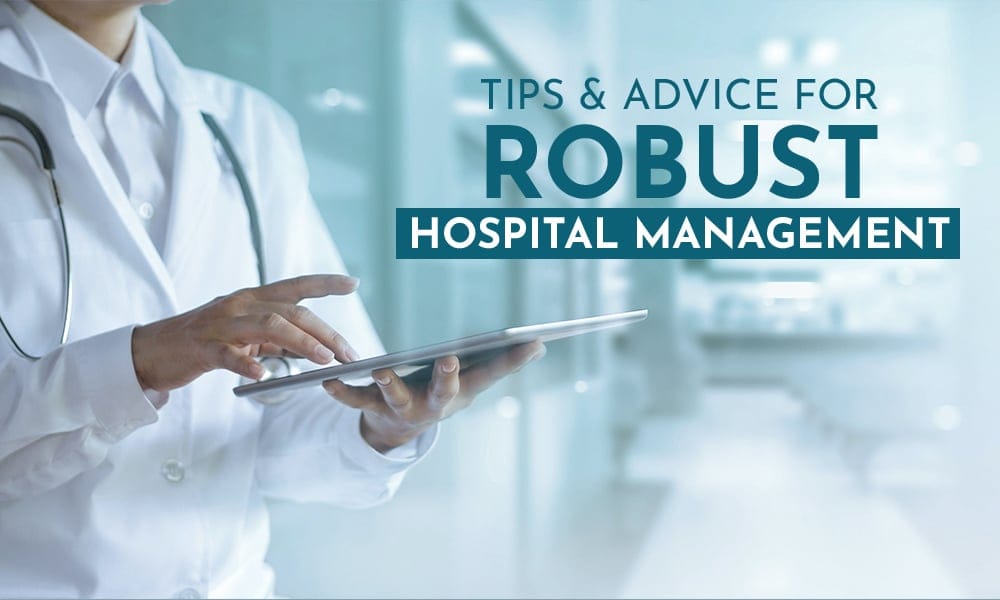 Do you comprehend the challenges that healthcare companies face while managing administration and clinical operations? Hospital Management Systems have grown increasingly important as the demand for high-quality healthcare services grows.
Tips & Advice for Hospital Management
Patient Care:
Create a Patient-Centered Environment
Creating a patient-centered environment is essential for any size hospital or healthcare facility. Hospital management needs to ensure that their facilities are designed with the patient in mind. This means
Listening to patient feedback
Providing them with resources and tools that improve their experience
Utilizing a hospital management system that puts the patient first
Ensuring effective communication between staff and patients
are key to creating a truly patient-centered environment.

Improve Patient Satisfaction
A satisfied patient will recommend your hospital to his friends and loved ones for any treatment in addition to choosing it for himself. If a patient is not satisfied, the opposite may occur.
Patient satisfaction is therefore of the utmost significance for fostering strong patient loyalty to your facility. Process simplification, staff education, service enhancements, and best practices assurance. Implementing patient feedback management system would help hospital administrators.
The best ways to guarantee patient satisfaction at your hospitals and clinics are to gather patient input, act on that feedback, and follow up with the patients.

Reduce Patient Readmission Rates
Reducing patient readmission rates is a major challenge for hospital management. To address this, it is important to have a proper transition of care with data using Electronic Health Record (EHR) data, understanding of discharge instructions and medication adherence.
Having a clear understanding of the patient's medical history and current condition is key to reducing readmission rates. This can be achieved through the use of EHR data that records all the patient's medical information. Hospital management should ensure that the transition from hospital to home care is seamless with proper communication between hospitals and patients or their caregivers.
Furthermore, hospital management should make sure that patients
Understand their discharge instructions completely.
Take the medication exactly as directed.
Keeping up with any follow-up appointments their doctors recommended.
By ensuring these factors are in place, hospital management can significantly reduce readmission rates in their hospitals.
Staff Management:  
Recruit & Retain Top Talent
Recruiting and retaining top talent in the hospital is key to success. To ensure that you are able to attract and keep the best employees, it is important to evaluate their potential, train and develop them, prevent heavy workloads, provide good compensation and regular recognition.
Using healthcare HR software can help you manage this process more efficiently. Such software can help you streamline the recruitment process by automating tasks such as
Screening applicants
Creating job postings
Tracking applications
Scheduling interviews.
Employee performance management by tracking goals,
Performance reviews and feedback.
Finally, it provides insight into employee satisfaction levels through surveys and feedback forms.
Positive Workplace Culture
Creating a positive work environment for hospital staff is essential for keeping morale high and productivity at peak levels. A good way to do this is to lead by example, as your staff are likely to take cues from you. Showing that you care about the well-being of your team and have their best interests at heart can go a long way towards creating an atmosphere where people want to work.
In addition, providing the right hospital management system can help make life easier for staff members, as they can easily access the necessary information quickly and accurately. This will also help them feel more in control of their jobs, which can be very motivating.
Finally, don't forget to recognize and acknowledge each person's contribution to keep them motivated and engaged with their work. This could involve verbal praise or something more tangible like incentives or rewards for outstanding performance.
Financial Management:
Control Cost & Increase Revenue
Healthcare organizations are under constant pressure to control costs and increase revenue. To achieve this, hospital management needs to take a comprehensive approach that investigates existing management practices and patient experience.
One of the key components of a successful strategy is to incorporate custom software that helps
Manage data, billing, payments, etc.
Streamline operations
Improve payment collection
Provide a more patient-centered approach
Additionally, leveraging existing partnerships with insurers can also help hospitals reduce administrative costs while increasing patient satisfaction.
Improve Hospital Financial Position
To sustain a solid hospital's financial performance, business practices must be reviewed and updated on a regular basis. Investing in a strong hospital management system that focuses on
Lowering overall spending,
Optimizing hospital inventory, and
Keeping up with the latest medical technology such as telemedicine, remote patient care, online appointment booking, e prescription.
To know more about healthcare financial management and to prevent revenue leakages, click here
Risk Management
Identifying & Mitigating Risk
To ensure the highest standards of safety and quality for their patients, hospital management must take the appropriate measures and steps towards risk management. Having a qualified, dedicated risk manager is essential to have an effective risk management plan.
Furthermore, having a centralized reporting system in place allows hospital management to better track any potential risks that may arise. Investing in a secured Hospital Management System (HMS) also helps to reduce security risks by ensuring that all data is kept secure and safe from any external hackers or malicious actors.
Checkout the Roles and responsibilities of health IT companies on protecting patient data & privacy.
Protect Hospital from Lawsuits
In hospitals, the risk of lawsuits is always present. To protect the hospital from potential lawsuits, it is important for hospital management to make sure that they take all necessary steps and procedures to ensure patient safety.
some of the tips that can help hospital management protect their establishment from potential lawsuits are
Proper documentation
Communication
Accurate representation of medical information
Usage of IMA approved medicines
Adequate discharge instructions should be provided to patients upon their discharge from the hospital.
Technology:  
From diagnostics to illness management, technology in healthcare serves both clinicians and patients. Many of the inefficiencies and inaccuracies associated with paper-based records are eliminated with electronic health records.
Technology is pervasive in practically every element of healthcare, necessitating a greater emphasis on innovation and administration of all the various technologies in a provider's tech stack.
Artificial intelligence and other cutting-edge technologies help with drug research and imaging analysis.
Telemedicine has been shown to minimize emergency room visits while also saving patients and providers money.
Wearables like the Digital Stethoscope and the Continuous Glucose Monitor enable providers to treat patients in their communities rather than having to drive to an office.
What is a Hospital Management System and How Can it Improve Healthcare Delivery?
A hospital management system is an essential software system that centralizes all hospital data from multiple medical departments in order to streamline multiple operations. Overall, it's a platform that acts as a central repository for doctors, patients, pharmaceuticals, laboratory, payment, and even insurance information.
It has been difficult for healthcare organizations to manage a big change in their system and cope with it while maintaining patient care. Clearly, the epidemic has highlighted the importance of improved communication, collaboration, and innovation.
To enable seamless care delivery, hospitals must manage everyday activities digitally and optimize overall performance. That is why hospitals often recommend the merits of effective hospital management systems (HMS).
Additional Tips for Hospital Management
• Be a visionary leader. Hospital management needs to be able to think strategically and develop a vision for the future of their hospital. They should be able to articulate this vision to staff, patients, and the community.
• Be a strong communicator. Hospital management needs to be able to communicate effectively with a variety of audiences, including staff, patients, physicians, and the community. They should be able to listen to others, build consensus, and resolve conflict.
• Be a team player. Hospital management needs to be able to work effectively with others. They should be able to build trust and rapport with staff, physicians, and other stakeholders.
• Be a problem solver. Hospital management will inevitably face challenges. They need to be able to think critically and creatively to solve problems. They should also be able to learn from their mistakes.
• Be adaptable. The healthcare industry is constantly changing. Hospital management needs to be able to adapt to change and embrace new ideas. They should also be able to anticipate future challenges and develop plans to address them.
Conclusion
These are just a few topics that hospital management should be familiar with. By staying up to date on the latest trends and best practices, hospital management can help their hospitals provide high-quality care and achieve their goals.
The Hospital Management System is now an essential component of any hospital/clinic/healthcare facility. It would make sense to invest in a comprehensive HMS in order to develop a differentiated, efficient, quick, and smart healthcare model.
Connect with us to learn more about these and other elements that can make your healthcare stand out. Our specialists would be pleased to assist.