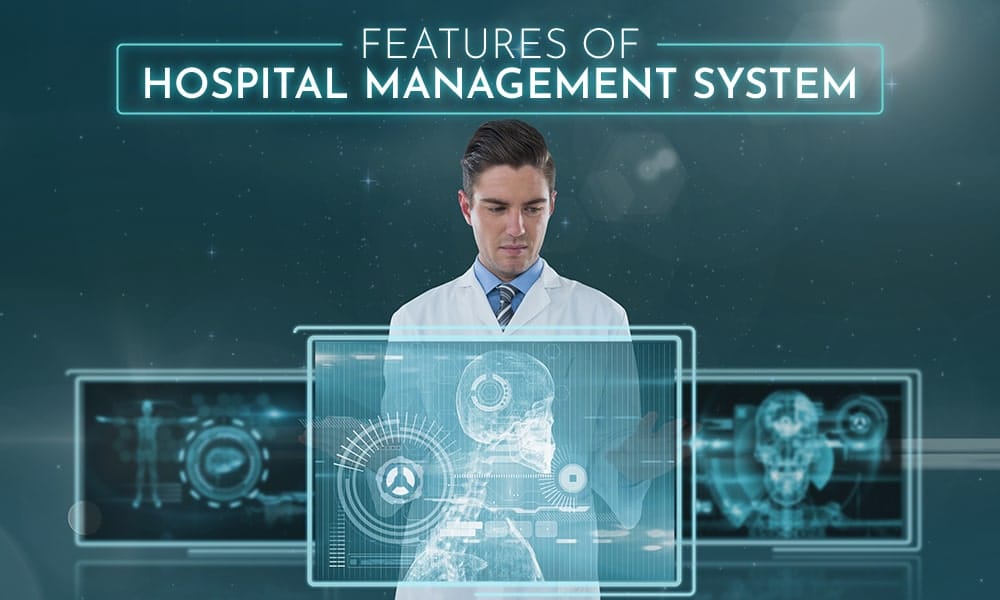 What are the features Hospital Management System?
A hospital management system (HMS) is a software application that helps any healthcare facilities manage their everyday operations. It typically includes modules for patient records, appointments, billing, inventory, and human resources. HMS can help hospitals improve efficiency, reduce costs, and improve patient care.
A hospital management system is a comprehensive, end-to-end integrated information system designed to manage all the aspects of a hospital's operations, such as patient engagement process, case management, medical record management, administrative, financial, governance and legal issues and the corresponding processing of services. Hospital management system (HMS) is also known as hospital information management system (HIMS) or hospital information software (HIS).
Features of Hospital Management System (HMS)
Some of the key features of a hospital management system include:
Dashboard
Analytics and Reports
Patient Registration
Appointment Management
Queue Management
Prescription Management
Clinical decision support
Tele-medicine
Billing Management
Communication Management
Electronic Health Record Management
Patient Vital Monitoring and Management
Ward or Bed Management
Operation Theatre Management
Cath Lab Management
Blood Bank Management
Insurance Processing
Medical camp management
Pathology Lab Management
Pharmacy Management
Inventory Management
Mobile App for doctors & patients
Patient portal
Healthcare workforce management

Basic Features of Hospital Management System:
Dashboard
Smart dashboards provide real-time insights into the functioning of various departments. They are equipped with interactive dashboards that give a bird's eye view of appointments data, department wise revenue, ward occupancy, pharmacy sales, lab sales data, daybook, expenses etc. These dashboards make it easier for administrators and other stakeholders to monitor all aspects of a hospital more efficiently.
Analytics and Reports:
Hospitals can leverage the power of AI/ML-driven analytics tools to gain real-time visibility into key performance metrics like patient wait times, treatment outcomes, and resource utilization. It also provides deeper actionable insights that can help hospital administrators improve performance, optimize costs, and increase patient satisfaction.
These reports can help administrators identify areas for improvement and take proactive measures to address them before they impact patient care or operational efficiency.
Patient Registration:
Customizable patient registration is the key to a successful for efficient patient engagement in a hospital management system. It involves collecting and maintaining detailed personal data of patients for a quick, easy, and secure access.
Patient registration should include demographic information such as name, contact details, unique ID and health insurance details. This process ensures that the hospital can provide better care for their patients by having all relevant information in one place.
Appointment Management:
The appointment management process in a hospital management system guarantees that workload is spread equitably among all physicians and other care providers in a hospital. This reduces unnecessary wait times, promotes continuity of care through timely patient follow-up, and helps to improve the patient's connection with the hospital.
Queue Management:
A robust queue and token management system can manage your OPD's patients flow and reduce waiting time this feature will also facilitate real time screencast notification management and an advanced digital token management system show hospital service.
Prescription Management:
With the help of e-Prescription, hospitals can now reduce errors related to wrong medicine dosage or incorrect medical information for the patient. This has become possible due to the integration of Hospital Management System with Electronic Medical Records and pharmacy management system.
An e-Prescription allows doctors, nurses, and healthcare workers to quickly generate a prescription in native language for the patient that is both accurate and easy to understand.

Advanced Features of Hospital Management System:
Clinical Decision Support:
Informed decisions begin with accurate data on which you can rely. Clinical decision support enables doctors and nurses to make evidence-based decisions quickly and accurately, allowing them to provide the best possible care for their patients.
By leveraging data from electronic health records, laboratory tests, medical imaging and other sources, clinical decision support can provide real-time insights into patient health and treatment options. This feature can also predict potential risks associated with treatments and enable hospitals to track patient outcomes over time.
Tele-medicine:
Telemedicine is an evolving means of providing healthcare services that is transforming the face of hospital management systems. It has transformed the traditional way of providing healthcare services by enabling seamless care assurance, customizing schedules, and increasing revenue regardless of time or geographical boundaries to facilitate better follow up visits for patients in multiple locations without them having to physically go to a doctor's office or hospital.
Tele-medicine with connected medical devices would add value for efficient remote healthcare.
Billing Management:
A built-in billing system that is strong, secure, and allows third-party interaction across all modules. A fully automated system captures and calculates invoices from every department, saving you the time and effort of searching through each department for pending payments or scenarios.
Communication Management:
Communication Management in robust hospital management systems provides a streamlined communication solution between patients and clinicians for optimal participation. Using auto-messaging technology, you may send single or mass SMS and WhatsApp texts to your patients. To communicate with your patients, employ an easy-to-use mobile app.
Electronic Health Record Management:
 Real-time data-driven electronic health record for standardising and archiving patient health records in the Allows you to document all key services from patient check-in to check-out, including lab tests, radiology orders, prescriptions, and other services.
Patient Vital Monitoring and Hospital Management System:
Making informed decisions requires a dependable source of accurate facts. With an effective continuous patient vital monitoring solution in the hospital management system, minimise nursing time, human errors, etc
Ward or Bed Management:
A hierarchical ward structure is essential for any inpatient ward management. Ward management in the hospital management system allows for the efficient management of your hospital operations for the benefit of your patients.
Operation Theatre Management:
Operations theatre management, patient monitoring, operation theatre consumable management, resource planning, and other tasks are handled by the operation theatre module. The operation theatre module has integrated with the inpatient department to provide improved healthcare insights into the scheduled procedure. The comprehensive, integrated and secure OT billing system makes the experience easy and simple for hospital management and patients.
Cath Lab Management:
The Cath lab management module, which has been built within the hospital's management system, provides an intuitive interface for collecting, managing, and analysing Cardiology Data in a variety of forms. This enables Cardiologists and Medical Professionals to generate well-informed opinions that contribute significantly to the quality of care provided to patients.
Blood Bank Management
Blood bank management integrates with inpatient management, electronic health record and laboratory systems, billing, inventories, and outside donor centres/hospitals. Data that is real-time and accurate, as well as efficient, is immediately made available via an intuitive dashboard. Integrated with OT and IP management system.
Insurance Processing
An easy-to-use solution facilitates the processing of pre-authorization and post-hospitalization insurance claims, as well as the reduction of accounts receivable and the improvement of revenue cycle management at hospitals.
Medical camp management
Organising a medical camp presents its own set of issues, including upfront planning, execution, and post-camp duties such as paperwork. The medical camp management solution when integrated with the hospital management system assists you in documenting your camp patients and converting them into patients. It effortlessly reduces redundant data entry while increasing efficiency for your team.
Pathology Lab Management
Laboratory information management systems and automation solutions will improve your lab's productivity, efficiency, throughput, data integrity, and compliance. it helps to automate operations and decrease errors so that the hospital staffs may focus on providing excellent care to your patients.
Pharmacy Management
Managing a medical store necessitates vigilance and rigorous adherence to standard regulations and norms, such as recalling the expiry date of accessible medicines in stock and deciphering doctor prescriptions. The pharmacy management system addresses issues including batch tracking, drug billing blockage, GST, customer interaction, sharing of notifications for medicines/drugs about to expire, over/low supply, and more.
Inventory Management
A well-designed hospital management system that includes supply chain management allows for real-time tracking of inventory, indents, purchase transactions, inventories required for OT, suppliers, payments, and other details. It aids in lowering operational costs and waste, providing real-time accurate inventory data, and lowering inventory costs.
Mobile App for Doctors & Patients
One of the biggest advantages of using a mobile app for healthcare is that it allows doctors to provide timely care to patients even at remote locations. Patients can easily book appointments, receive prescriptions, and access their medical records all from the comfort of their own homes.
Moreover, mobile apps also make it easier for patients to track their own health and stay on top of their appointments and medications. With features such as reminders and notifications, these apps ensure that patients are receiving the care they need when they need it.
Patient portal
Patients may easily access their health records through the patient portal, as well as other perks like as electronic prescriptions and online doctor appointments. Portals, which attempt to better satisfy the requirements of patients by incorporating new features, are one of the most essential aspects of health care in the digital age.
Healthcare workforce management in Hospital Management System
Integrating healthcare workforce management system with HMS may improve personnel acquisition, retention, and management in any job in your hospital. Streamline your hospital's core HR process for an effective workflow that is customised and configured to match the needs of the hospital/clinic.
Benefits of implementing hospital management system
Here are some of the benefits of using a hospital management system:
Seamless dataflow: With a robust hospital management system in place, healthcare providers can easily and efficiently manage their patient data. This includes everything from scheduling appointments to tracking medical histories, treatment plans, and post treatment engagement
Improved efficiency:  Streamline hospital operations, reduce paperwork, improve communication, and increase accuracy. Experience improved efficiency and better patient care.
Reduced costs:  Implementing a hospital management system can significantly reduce costs by streamlining administrative tasks, improving staff efficiency, reducing errors, and optimizing resource allocation.
Improved patient engagement: Revolutionize the patient experience with a comprehensive hospital management system that streamlines workflows and enhances communication, resulting in increased patient satisfaction and engagement.
Improved patient care:  By providing real-time access to patient information for healthcare professionals, results in more efficient and effective care delivery, ultimately leading to better outcomes for patients.
Improved purchase management: Experience optimised purchase management with our hospital management system, allowing for efficient procurement, inventory control, and cost savings.
Better decision-making: Improves communication and provides real-time data for better decision-making. It enhances patient care, reduces errors, and optimizes resources, resulting in increased efficiency and productivity.
Considerations Before Opting for Hospital Management System
Are you considering implementing a hospital management system? There are a few things you should keep in mind for your consideration:
The Size and Complexity of Your Hospital
Assess HMS Users
HMS Features
Offline Or Online
Data Security and Privacy
Budget
IT Infrastructure and IT Admin
Identifying Right Health IT Vendor
Support And Help Documentation
Conclusion
It makes no difference whether you manage a small or large-scale hospital, as advanced technologies are important for becoming more significant today. Healthcare providers must try to create an amazing patient experience by simplifying their operations with new-age technologies. Intuitive hospital management system characteristics have evolved as a dependable assistance in providers' journeys to produce value for patients.
Book for a free trial with us.