History
World AIDS Daywas first conceived in August 1987 at the World Health Organization (WHO), Geneva, Switzerland by two public officers for the Global Programme James W Bunn and Thomas Netter. On 1st December each year, organizations and individuals across the world spread awareness and knowledge about the HIV epidemic to eradicate the disease and HIV stigma. World AIDS Day allows people worldwide to come together in the fight against HIV and to support people living with HIV.
Though significant progress has been made to eradicate HIV, AIDS remains a major global public health issue. Along with other major health issues, in the year 2020, HIV faces additional challenges during the COVID-19 pandemic. Like all other diseases HIV prevention, testing, treatment, awareness and care services are all being disrupted particularly in those countries where the healthcare system is fragile. The breakdown in essential HIV services due to COVID-19 is threatening lives. Any further delay in resuming these services will leave many vulnerable populations at greater risk of HIV infection and AIDS-related deaths. Amid COVID -19 pandemic health workers and community representatives are doing their best to keep services going by adopting innovative ways to overcome disruptions in services due to COVID-19.
Theme & Significance
The theme for the 2020 World AIDS DAY is "Ending the HIV/AIDS Epidemic: Resilience and Impact". This theme is more relevant to the year 2020 where the whole world is suffering from COVID-19 pandemic. This theme reinforces the need and urgency to spread awareness and extend the required healthcare services to end HIV/AIDS around the world.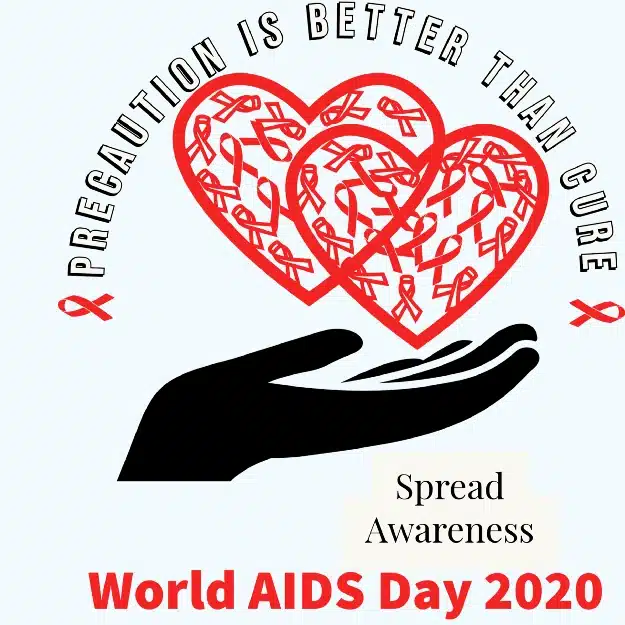 What is HIV/ AIDS?
AIDS is Acquired Immuno Deficiency Syndrome (AIDS), a chronic, potentially life-threatening disease caused by the Human Immuno Deficiency Virus (HIV). It will damage the immune system and interferes with the body's ability to fight infection and disease making a person with HIV infected more vulnerable to other infections and diseases.
The HIV/ AIDS spreads by contact with certain bodily fluids of a person with HIV infection, commonly during unprotected sex or through sharing a needle or syringe to inject the drug. If it is untreated it can lead to AIDS and HIV once infected human body, it is for life as there is no effective cure exists for HIV.
HIV is the Human Immunodeficiency Virus (HIV)and AIDS is the late stage of HIV infection caused when the body's immune system damages due to HIV.
Most people do not develop AIDS if they take HIV medicine every day as prescribed and the disease progression can be stopped.
We can say a person with HIV infection has progressed to AIDS when the number if their CD4 cells fall below 200 cells per cubic millimetre of the blood of 200 cells/mm3 (For a healthy immune system, CD4 counts are between 500 and 1,600 cells/mm3) and if the HIV infected develops one or more infections regardless of the CD4 counts. Without HIV medicine the infected can survive for about 3 years. During this period if the patient develops opportunistic infections/illness, without HIV medicine life expectancy falls to about 1 year. HIV medicine can still help patients at this stage but if the HIV medicine is taken at an early stage it can be more beneficial. So getting a test for HIV infection is vital
How HIV is identified?
By getting tested for HIV, one can be sure of the infection. Many medical clinics do the HIV test and it is a very simple test anyone can get it checked at home by buying a testing kit at a pharmacy or through online.
Importance of World AIDS Day
World AIDS day is an opportunity to spread awareness about the status of AIDS and encourage progress in HIV/AIDS prevention, treatment and care around the world. Globally, there are an estimated 38 million people who are living with HIV or AIDs virus. More than 35million people have died of HIV or AIDS, though the virus was identified only in 1984. This makes HIV or AIDS as the most destructive pandemics in history.
Even today people who are diagnosed with HIV live with the stigma and discriminated though we have advanced scientifically, have made advances in HIV treatment and have laws to protect people who are infected with HIV. Hence there is a need to understand more about the decease, bring awareness about the facts and help people to protect themselves and others from the HIV infection.
Conclusion
World AIDS Day plays an important role in reminding the public and government agencies about HIV and the need to raise funds, awareness, fight prejudice, provide healthcare facility and educate about the disease. This year World AIDS Day is observedon 1st December 2020, pays a tribute to all those health workers, organizations & community representatives, who are providing HIV services and calls for global awareness about AIDS, to maintain essential HIV services during COVID 19 and beyond. The year 2020, is also the International Year of the Nurse and the Midwife, which calls for more protection and support to these health workers who have been in the frontline for long in HIV service delivery. Let us all contribute to the efforts to end AIDS and spread awareness to make the world a healthier place to live.