Healthcare tech is evolving at a rapid pace and is expected to take a steeper upward curve in the coming years. According to a report by RBSA Advisors, India's HealthTech market is forecasted to hit $50 billion by 2033. There is also a mention of the industry growing at a 39 percent compounded annual growth rate (CAGR) over FY2020-FY2023. Post pandemic, there's a greater surge in HealthTech especially with 50 % higher adoption of telemedicine. The world is gearing towards higher adoption of healthcare technologies with new models based on cost-friendliness, patient/provider experience and ease of healthcare.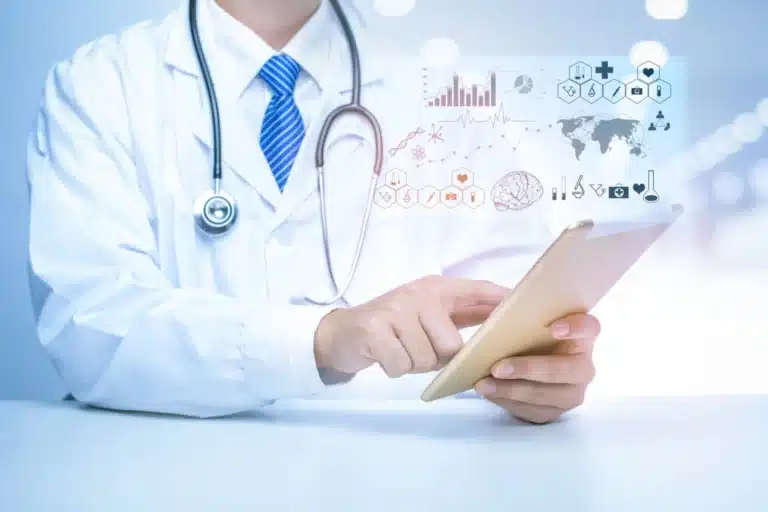 The fast-forwarded healthcare paradigm shift
Today's healthcare is based upon patient and customer experience which demands for the best hospital management software. Through the rapidly changing healthcare demands, there's a rapid shift of patients expectations in the healthcare industry.
Data
Data is no more just raw information. Clients expect them to be channeled into health insights that can lead them to meaningful patient care. They expect no data silos, but a single, integrated source of practice management system that can be accessed in a few clicks.
Customer- centric
Customer experience is the new marketing. Clients expect technology to speed up their execution, automate manual clinic processes and make them valuable time for healthcare. They need the best clinical management solution that can address their challenges faced in various point-of-care scenarios in healthcare.
How is Ezovion Taking the Quantum Leap
One of the major challenges in healthcare technology today is integration and interoperability. Ezovion's intelligent-driven hospital management system is built with an AI/ML based algorithm that gathers and streamlines clinical data and derives meaningful insights. With Ezovion, providers experience a complete, end-to-end hospital management software that helps better plan, operate your business, support your team members, and develop evidence-based care approaches- thereby helping deliver best care for patients.
Our platform excels at deep-integration of data across different stakeholders, different systems, departments that paves way for high efficiency, accurate diagnosis, more time for value and enhanced patient care – compared to other players in the market.
Unique Healthcare Technology custom-built for stakeholders
Ezovion hospital management system is intelligent-driven and offers providers with a simplified Healthcare experience. Offers an All-in-one suite of online solutions designed to cover end-to-end aspects of hospital patient care process, core workflows and address the shortcomings of healthcare. It's almost like a digital twin of any hospital but can offer hospitals with benefits such as 20% increase in patient flow, 2x less in IT Capex Spending and 20% less in operating cost.
We have analyzed smallest to biggest details of healthcare scenarios, understood challenges and created our technology solutions around it. Few USP's to call out:
Powerful Electronic Health Record with insightful case sheet, follow-up visit tracker, medication archive
Ezovion Electronic Health Record is integrated with Ezovion LIMS, PACS, Pharmacy
PACS has radiology image comparison toolkit & editing capabilities
Pharmacy & favorite prescription for easy prescription of orders
Electronic Health Record integrated with Lab for easy lab orders and receive lab reports real-time
OP/IP prescription solution has out of stock indicators
Build multilanguage prescription for better patient care and engagement.
Custom build case sheet, OP bills, IP bills, discharge summary, daycare summary
NABH, NABL Compliances & CEA ready
Insightful visualization of your healthcare practice performance for easy understanding
300+ insightful reports
The next-wave Of Digital Remote Monitoring
Ezovion's IoT digital remote patient vital monitoring tracks smallest to biggest details of OPD and IPD. The values are tracked and sent across the IoT gateway as notifications directly on the attender's field devices, the nursing station. Using cloud electronic health record management integrated with hospital management software, the vitals are also automatically updated in the EHR and HIMS without the necessity of a separate staff to note the values and update. There is also a unique system of sending alerting/notifications when any vitals exceed threshold.
Benefits:
Remote patient vital monitoring that enables remote patient care
Helps providers with Continuous or on-demand patient vital monitoring anytime, anywhere
Assisted and unassisted patient vital monitoring
Faster and cheaper vital monitoring as it cuts need for recruiting additional staff for monitoring the patient
collects 100% accurate information and avoids human errors
Improve patient flow and revenue
24×7 ICU patients vital monitoring
Auto-create alters or notification for abnormal
Telemedicine:
Ezovion's unique Tele-medicine / Tele-consultation solutions work in low/poor bandwidth to enable remote diagnosis, treatment, and monitoring of patients in seamless manner, helping clinicians use the real-world data for patient outcome analysis. Our teleconsultation solutions enable patients in the remote areas, poor & low bandwidth places to receive the care consistently in challenging situation. It empowers collaboration and bridges barriers between healthcare providers, patients, and other stake holders.
The teleconsultation platform in a full-cycle workflow and they are built with fully secured protocols
Engage paramedics, caregivers in the Emergency Telemedicine scenario for effective care and send out alerts whenever necessary.
Manage lab orders, radiology orders and prescription orders, in a secured link via SMS
Our Roadmap to Healthcare Superapp
Ezovion look forward to be the Leader in integrated healthcare eco system in the next 3 years powered by the Inter-operable EHR partnered with National Digital Health Mission, Intuitive Remote Vital Monitoring Solutions and the Pioneering Collaborative Marketplace for all providers and healthcare professionals engaging with Medical Equipment, Consumables, Pharma suppliers and financial service providers.
Ezovion offers Classifieds and Appointment platform for healthcare providers for free. A robust, easy to use mobile or tablet app to manage pharmaceutical supply chain.
In lieu to the best hospital management system, we combine all components of healthcare, all departments of healthcare, each episode of patient journey, every stakeholder into one journey of ongoing patient care providing the last mileage experience. We take pride in the fact that our systems are so interoperable that each detail of patient information is made available to every related stakeholder/department in the ecosystem- and believe this paves way to be transparent, updated and straight-forward insight about a patient.
Want to schedule a demo to explore Ezovion? Contact our experts.