Teleconsultation doctor is the new normal with a snowballing impact on disease eradication. The delivery of healthcare services is impacted by several issues, including geographic location, resource limitations, understaffing, and inadequate training of health personnel. Longer wait times to see specialists and physicians can delay the detection of diseases, disrupt care continuity and lower the effectiveness of medical services as a whole. Herein lies the role that telehealth, and particularly specialized tele medicine consultation, plays.
Telehealth consultation lets you manage a variety of care options and treatment plans remotely such as prescription and refill requests without requiring the patient to leave their home. You get a dedicated portal that will work as an online hub that gives access to patient information, scheduling, statements, bill-pay, staff, physician messaging, and countless other tasks to reduce the time for patients and tele consulting doctor.
We will understand how we help you all in this. But, before that, let's understand what is teleconsulting and teleconsultation software.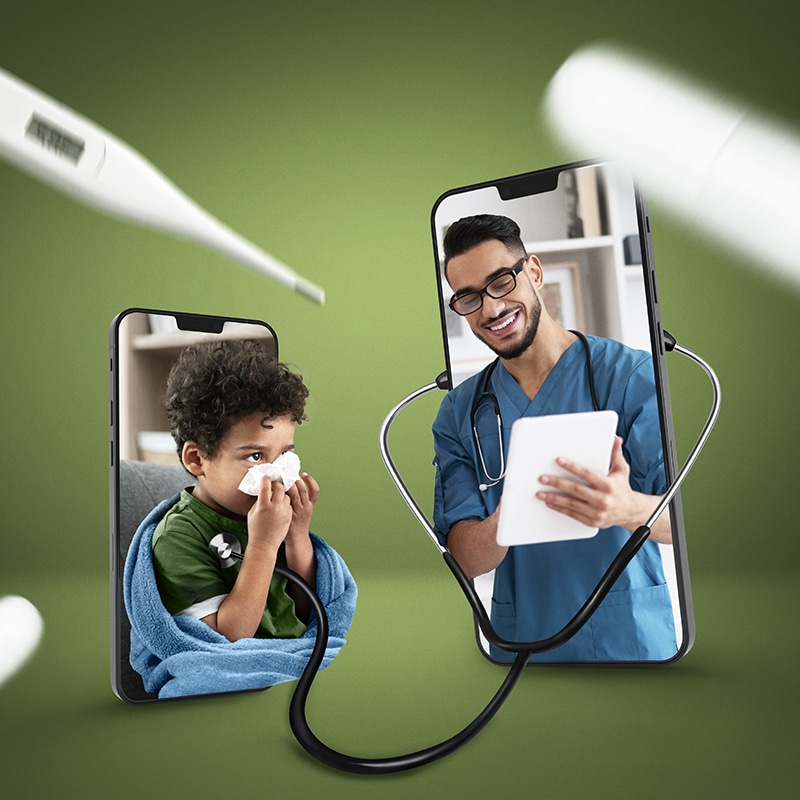 What is teleconsultation software?
The portal utilized by doctors and patients to communicate with each other and share videos and photographs is teleconsultation.
Teleconsultation with doctor enables patients to get care from health personnel wherever they may be in the world. The sole condition is that patients have an internet connection. As a result, patients who are unable to go to a doctor's office can still receive care.  
Doctors require a software solution that will assist them in communicating with patients and managing their practices as telecommunication becomes more and more commonplace. By facilitating the scheduling and execution of online appointments, tele health consultation software closes the gap.
Now, let's discuss the benefit of Telehealth Consultation-Software.
Benefits and features of teleconsultation software
End-to-End Services of Teleconsultation
An ideal software streamlines each step of a teleconsultation, including online reservation, reminders for follow-up visits, billing, arranging consultations, emailing medications, gathering feedback, canceling bookings, and rescheduling.
Gives Full Flexibility to Patients
Patients can make payments online and set up sessions with real-time information on the availability of their tele consultation doctor. They can submit lab results and old prescriptions in a variety of file types. All of this is possible with just a stable Internet connection. Patients can skip hospital crowds by using contactless technology.
Easy Video call Access
To a doctor and a patient, a smooth, hassle-free video-calling experience is essential for fruitful online teleconsultation and communication. A secure, private and feature-rich video calling experience in Tele consultation software can make the consultation as useful as in-person consultation, and save time and money for both.
No Physician Stresses
Doctors are working longer hours, often at multiple facilities, and the stresses can add up quickly. Driving to and from work on top of all the added administrative tasks can hinder doctor job satisfaction. However, with a tele doctor consultation software solution, doctors can offer virtual consults and minimize the logistical stressors that detract from patient care.
Create Revenue
With the help of Tele consultation software, doctors can now care for patients remotely at times convenient for them and be compensated for the valuable consultations they provide. Plus, for practitioners seeking to increase their patient volume and grow their practice, teleconsultation for doctors technology can be a game-changer.
Smooth Management of Payments
Administrators have the ability to set costs and follow-up charges for certain doctors, create bills online, and accept money ahead of time. With the aid of transaction reports, payment administrators may settle bills to make sure no payment is missed.
With all of these benefits of telehealth consultation, now it's time to understand how Ezovion Health Management Software helps:
How we help
First things first, in Ezovion health management software you will get all of the features that are mentioned above with that, you get some more added benefits.
Any issue you may have can be handled by specialized doctors 24 hours a day thanks to the software that includes always-available specialist doctors. We, as a teleconsultation companies in india, take complete responsibility and ensure the system is implemented, integrated, and approved. We also look forward to eradicating any technical issues that the app and software may face in the future:
Here are some of the benefits that Ezovion tele medicine consultation Software provides and make it better from other apps:
Basic features
Ezovion HMS includes several practical features, including private phone numbers, scheduled appointments, group chat, prescription details, in-app billing, encrypted text, audio, and video conferencing, and much more.
Direct Connection
There will be a direct connection between doctor and patient where the patient can search for hospitals & doctors and book an appointment with the chosen specialist. It doesn't involve any providers or third parties for doing the paperwork, accessing appointments, checking waiting areas, or accessing any other details.
Utmost Security
At the heart of the app is the actual consultation which provides a secure, private and safe environment for patients to share details of their condition with doctors. Similar to an OPD or Clinic environment, Ezovion Tele Health Consultation Software provides a secure voice and video calling feature that allows doctors to not just listen to the patient, but also examine them remotely. The best part is there is no third-party video app involved in the process. These calls are encrypted and made airtight to hacking attempts.
Simple Registration
Patients and doctors get their separate portals to register themselves. Here they both can access the appointment and all the prescriptions. Patients and doctors are notified of the expected time of the session before the appointment.
Less Waiting
Hospitals and doctors who choose to use Ezovion online teleconsultation technology save a lot of time for patients that would otherwise be spent in waiting areas and being exposed to the outside world. Doctors can also schedule meetings based on their availability rather than gathering people outside their hospital.
Easy Online Payment
Use your credit or debit card to make easy payments through Paytm or other online banking services. There are other options available for patients to make the payment and get the consultation from their preferred doctors.
Preoperative & postoperative care
Minimizing in-office preparatory time while retaining the accuracy and safety of determining preoperative patient fitness for surgery is the end objective for surgeons and surgical patients using telemedicine.
In the field of thoracotomy, telehealth services are becoming more and more common in all phases of patient care, including preoperative counseling, surgical preparation and fitness testing, and postoperative follow-up. Telemedicine can speed up and simplify preoperative imaging, work-up, and consultation for patients having thoracic surgery.
The benefits of telemedicine also apply to the postoperative treatment of thoracic patients. Patients' regular symptom monitoring was paired with email warnings to doctors.
The Usual shortcomings of the Telehealth
Long before patients arrive in primary care clinics, telemedicine is heavily utilised in "ahead triaging " them. Telemedicine visits do not entirely replace in-person appointments, nor are they practical for all patients or clinical circumstances. For instance, technical issues can make it harder to offer care because technology is not always reliable. The inability to perform a physical examination in person is a serious restriction. The inability to weigh patients may result in improper dosage of weight-based medications (such as chemotherapy treatments and paediatric pharmaceuticals).
In order to provide effective and precise care, the physician must use telemedicine services wisely but telemedicine visits might not be appropriate or practical for all patients or clinical settings.
Be Different from Others: Thinks different
Telehealth consultation applications have the potential to speed up the treatment of a variety of medical conditions. It is more successful when a person gets medication from a professional doctor who provides detailed knowledge about their symptoms. Tele health consultation is a method of maintaining continuous contact with patients and healthcare providers.
Ezovion will be a helping hand every time you are busy. They also check to see whether you require any software updates or app installations. Additionally, they are able to instruct you on how to log on and join the video chat during your visit. You will also get a demonstration of how to use the text chat, camera, and microphone. If necessary, you can contact an Ezovion family to assist you with configuring the necessary technologies.
To participate in the virtual visit using Ezovion HMS, all you need is a smartphone, tablet, or computer with an internet connection. During your session, you can sit in a cozy, silent, private space. It is a plus point that providers always meet in a private setting for communicating better.  
No matter where you are in the world, we give you the ability to consult the top medical professionals with only a mouse click and get answers to your healthcare questions with teleconsultation doctor while relaxing in your own home.