There are many different ways in which healthcare services can implement customer relationship management or enterprise resource planning software. With Software-as-a-Service (SaaS) and other cloud-based models on the rise, many enterprises are trying to determine the most suitable implementation type.
Check out the significant difference between Saas vs on-premise and how you can use them to your enterprise's advantage.
What is the role of SaaS in Healthcare?  
Software as a service (or SaaS) delivers Advanced technology in healthcare applications deployed on a cloud and provides benefits over the internet. Instead of installing and maintaining software in an on-premises IT infrastructure, healthcare providers access health IT solutions via the internet, free from complex software and hardware management.  
What is On-premises for healthcare? 
On-premises means implementing purchased hospital management software on your own IT infrastructure behind its firewall. This implementation model comes with a recurring cost for on-premises and future hardware maintenance and refresh. As the implementation of your hospital management software within your IT infrastructure, it might also provide more peace of mind. 
The hospital software license fees, implementation, and training costs are usually paid upfront. Post-implementation costs such as services and upgrades must be considered.  
The downside of the on-premises hospital or clinical management software is that recurring costs associated with managing and maintaining will be exponentially higher than SaaS. Healthcare IT service and support staff needed to manage could be a potential issue.  

What are The Key Differences Between Saas vs On-Premise Service? 
 As outlined above, several fundamental differences exist between an on-premises and a SaaS HIMS implementation.
 
Deployment 
On-Premises: 
In an on-premises IT infrastructure, purchased HIMS is deployed in-house. You are responsible for maintaining the solution and all other related maintenance activities.
SaaS: 
In a SaaS/cloud environment, digital technology in healthcare as Hospital Management System is hosted on a cloud service provider data center. The users can access your practice management software anytime from anywhere.
Cost 
On-Premises: 
Hospitals deploy hospital software on-premise. They are responsible for upfront license costs, the ongoing maintenance costs of the server hardware, server OS, hardware refresh, power consumption, and space. 
SaaS:
Subscribers must pay for the software they subscribe to, and the HIMS SaaS vendor will take all the maintenance and support tasks at no additional cost. 
Control 
On-Premises: 
In an on-premises infrastructure, hospitals can retain all their data and entirely control what happens to it, for better or worse, provided hospitals have employed skilled IT support teams.  
SaaS: 
In a SaaS environment, the question of ownership of data is one that many hospitals have. Data and encryption keys reside within the cloud service provider, so identify a HIMS vendor who is ISO27001 certified or they have the solution implemented on a HIPAA cloud service provider.  
Security 
On-Premises: 
Whether a hospital implements its clinic management software in the cloud, data security and patient privacy will always be critical in the healthcare industry. In a hospital with an on-premises management system, your IT support team must implement appropriate security policies, hardware, software firewalls, and virus scanners to protect the data. 
SaaS: 
Identify Health Practice Management Software that is deployed in a cloud infrastructure that is highly secured, HIPAA compliant, and has a good risk management record. It also protects its users from unauthorized access and breaches so that your patient data is connected and privacy is protected.
Please read our blog about how security threat impacts the healthcare industry: What Level Of Security Do You Have? 
Compliance 
On-Premises: 
Indian healthcare is less regulated than in other countries to protect patient data and privacy. The most common is the Health Insurance Portability and Accountability Act (HIPAA) for private health information, which contains detailed patient records, and other government and healthcare industry regulations. Your hospital IT support team must know about meeting government regulations to protect your data.
SaaS: 
The Hospital Management supplier must also reduce work associated with regulatory compliance related to the storage and handling of patient data. Make sure the supplier is compliant with the government's regulations and guidelines. Make sure the supplier follows the patient record retention policy. It would help if you also considered spending less time and costs on regulatory compliance to protect Patient data and ensure their privacy.   
Maintenance 
On-Premises: 
Hospitals implemented with on-prem management software must manage and maintain their servers, OS, firewall, and HIMS.  
Dedicated IT staff for support and maintenance needed 
Control over all data and systems 
Data backup and recovery procedure  
Sensitive data is stored and handled internally
SaaS: 
One of the best advantages of SaaS Hospital Management Software is the ability always to run the latest version of the software. Adding or removing software/modules/features you need is more manageable. Scale up or down the number of required licenses is possible with SaaS. Access hospital management software from anywhere, anytime you want, without additional cost; also increase productivity. Storage management is just a click away.  
The latest HIMS version and other advantages are only possible with Clinic Management Software on-premises. Having SaaS-based Hospital software frees up time for IT staff to focus on other, more critical tasks. Evaluate factors such as:
Value of running the latest hospital software version. 
Coat to upgrade 
Value of a scalable solution  
Cost Comparison Between Saas vs on-premise Implementations 
The other challenge involved in a financial evaluation of the two models is comparing SaaS and on-prem hospital management solutions. Cloud service providers offer full service of hardware, network, real estate, security, backup, recovery, and IT, support staff.  
Also, evaluate Capital Expenditure to build on-premises IT infrastructure such as: 
Server hardware, OS cost 
Middleware and Database server cost 
Firewall (both hardware and software) cost 
Hardware maintenance cost 
Backup and Recovery 
Data security and privacy, encryption (in transit & at rest) 
IT Admin cost 
Yearly Hospital Management Software upgrade cost 
Uptime and downtime cost 
Real estate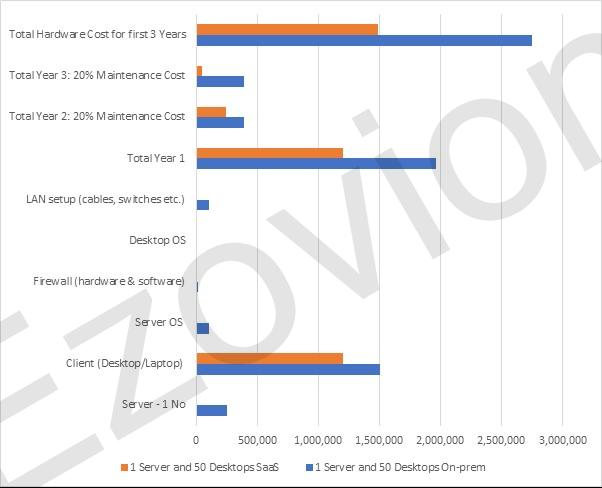 The initial and recurring investment needed and cost savings that can be achieved are only possible to estimate if it is discussed and documented with a detailed cost breakdown. The below illustration will help you understand the total IT infrastructure cost. Actual costs that can be saved or reduced from energy cost, hardware, operating system, web server, app server, database server, hardware/software security software, switches, cables, space, IT staff, and annual maintenance cost. 

Download this excel sheet to calculate the cost comparison between Saas vs on-premise: On-Prem vs. Cloud Hardware Cost Comparison.xlsx.  
 How Ezovion's Data Migration Services Can Help You?
Ezovion can help you by offering multiple SaaS-based hospital management applications, web-based, on-demand, or hosted software in a secured cloud infrastructure. The health IT SaaS service by us has management access to the application, including security, availability, and performance. Ezovion provides SaaS-based health IT services that deliver secure and highly available healthcare IT solutions. We can also help you to manage the data migration processes on both SaaS and On-premises data migration without causing you any hassle.
So, while choosing a data server, always compare them with your needs and also check its compatibility with your hospital management software (HMS). Choose your hospital management software services wisely to avoid all the unnecessary hassle of data migration and transfer processes.