When it comes to healthcare, time is of the utmost importance. Imagine the consequences if there is even a small hiccup or error when communicating the diagnosis and results. Leading hospitals use a hospital management system to streamline patient care process. Using intelligent healthcare technology allows you to get the most out of your work.
Your healthcare perspective will shift once you understand the significance of electronic health records. Many healthcare systems now use EHRs to elevate the care and patient's experience. As a result of the significant use of electronic health records, medical facilities and patients' medical records are equally safe and secure, and data access has been simplified.
What is a Hospital Management System and What is an Electronic Health Record?
Hospital Management System
A hospital management system is an integrated solution that assists in the efficient management of hospital resources and functions by integrating multiple hospital departments into a single hospital management system. 
The Hospital Management System provides services that simplify the tasks of healthcare professionals as well as their interactions with patients through automated functionality. They primarily focus on assisting hospital professionals in making effective decisions in order to perform efficient workflow on various departments of hospital and medical work.
Electronic Health Record
An Electronic Health Record (EHR) is computer software that is used to capture, store, and share structured patient data. An EHR allows medical information to be shared among all authorized parties involved in the patient's care, including clinicians, labs, pharmacies, emergency rooms, nursing homes, and patients themselves. 
Electronic Health Record can also support other care-related activities, either directly or indirectly, via various interfaces, such as evidence-based decision – making, quality management, and outcomes tracking. EHRs are the next step in the evolution of healthcare, and they have the ability to improve the relationship between doctors and their patients. The data, as well as its timeliness and accessibility, will allow providers to make more informed choices and provide excellent care.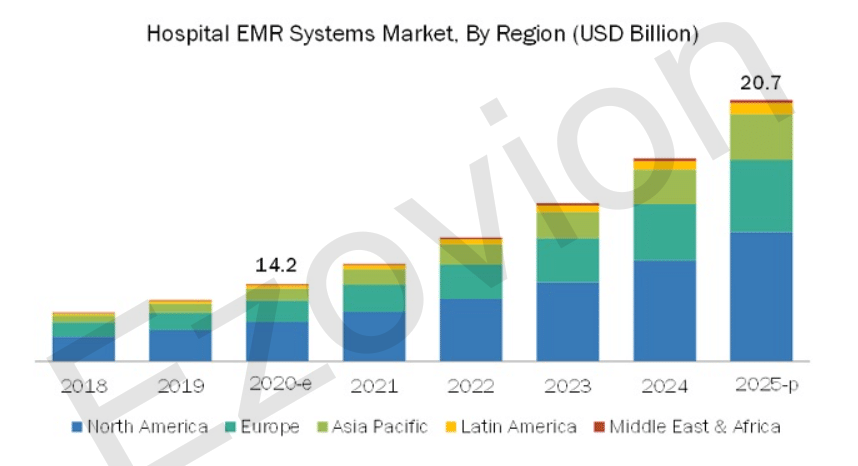 Source: marketsandmarkets
Comparing the Benefits of HMS vs. EHR
Benefits of Hospital management System (HMS)
The implementation of a hospital management system project provides numerous benefits to the facility, including increased service quality and efficiency. It is designed for three types of users: patients, hospital staff and management, and third-party providers such as pharmaceutical companies and insurance companies. Their interaction conveys the overall performance.
The major benefits of HMS
Better Diagnosis and Treatment
Effortless operation of the medical facility
Improved Inventory Management
Information is easily accessible.
Cut Back on Extra Costs
Enhanced Data Security
Real-time Data Access
Requires Less Manpower
Better Diagnosis and Treatment
A smart hospital management system's primary advantage is that it improved overall diagnosis and treatment. The HMS can be used to add to and access the patient's health report and health information from the past to the present day, as well as the illness he is enduring from and the care he received. Doctors can use this knowledge to better assess their patients' health problems, allowing them to provide the most effective treatment.
Effortless operation of the medical facility
Every hospital is a self-contained machine. Staff, physicians, inventory, and finance are all interconnected in the hospital. As a result, in order to provide a better overall performance, all of the components must be in excellent condition and work in tandem. This is possible with the assistance of a hospital management system.
The smart hospital management system guarantees that every component of the healthcare facility functions properly and that the greatest feasible results are obtained.
Improved Hospital Inventory Management
Any hospital, whether multispecialty or surgical, keeps a large stock of medications, medical instruments, biodegradable items such as masks, gloves, and syringes, patient refreshment, bedding products, and other supplies.
To ensure the hospital's smooth operation, all of these items must be up to date at all times. Using HMS, you can get real-time updates on available stocks and therefore manage your inventory more effectively.  
Information is easily accessible
The data from the hospital allows you to track and oversee various events in order to improve your strategy and set performance goals. With a smart hospital management system, you'll have access to all of the information you need, including the patient's medical history, inventory, finance, workforce, and more.
You can use this knowledge to determine which departments or systems have flaws and how to fix them. The data can also help you develop a long-term strategy for your healthcare facility.
Cut Back on Extra Costs
There is a significant risk of information leaks and irregularities when all hospital operations are handled manually. Because we are all vulnerable to error as humans. These mistakes will have serious long-term consequences.
However, with the help of an intelligent hospital management system, you can effectively control all the hospital's operations, even if you have fewer human resources. Furthermore, limiting human interference in the system will result in lower operating costs and less leakage.
Enhanced Data Security
Another significant benefit of hospital management systems is enhanced data security. Only authorized people have access to the particular collection of data because everything is done through a secure system. Furthermore, everything is interconnected in a cloud-based hospital management system, ensuring that there are no risks of loss of data and that the patients' medical history or condition information is completely secure.
Real-time Data Access
Because a smart hospital management system is centralized, doctors, administrators, and other employees have real-time access to data, allowing them to make the right decisions possible. For example, real-time inventory data will aid managers in replenishing and updating inventory. Similarly, real-time data on a patient's treatment will help doctors make clinical decisions with no possibility of mistakes or ambiguity.
Benefits of Electronic Health Records
When a patient is under the care of multiple doctors, keeping track of his or her history, including allergies, blood type, treatment plan, past procedures, and other pertinent information, can be difficult if paper charts are used. The use of electronic medical records encourages multiple care providers, irrespective of location, to access a patient's record from any computer at the same time.
The major benefits of EHR
Less paperwork and lesser storage issues
Increased care quality
Financial incentives
Increased productivity and efficacy
Less Paperwork & Lesser Storage Issues
Administrative duties consume a substantial amount of time and money in the healthcare industry. Clinicians and staff may devote a significant portion of their workday to stuffing out and processing forms. EHRs, since they're paperless, help to streamline a variety of routine tasks.
As the amount of paperwork decreases, so does the amount of storage space require. With the instant access and retrieval of digital EHR systems, healthcare organizations' offices may become less cluttered as storage requirements decrease and efficiency increases.
Increased Care Quality
EHRs enable the exchange of complete health data regarding an individual in real time. Accurate, up-to-date, and comprehensive information leads to higher quality care, from improved diagnoses to fewer errors.
EHRs can help patients effectively manage their conditions and become more involved in their healthcare by sending fully automated reminders for precautionary visits and screenings. When it comes to medicines, paper prescriptions can be misplaced or misread, resulting in dosage errors or even incorrect medication being dispensed.
By eliminating lost prescriptions, e – prescribing doctors make to communicate directly with pharmacies, reducing uncertainty and saving time. Patient safety is also enhanced because electronic prescribing checks for possibly dangerous drug interactions.
Financial Incentives
Obtaining the equipment needed, hiring personnel to implement it, and providing training on new procedures to shift to EHR can be expensive for healthcare providers. Fortunately, financial incentives exist to assist organizations in recouping their investment.
Increased Productivity & Efficacy
EHRs can be more effective than paper records because they allow for centralized chart management and faster access to patient information with condition-specific queries from anywhere.
Communication with other healthcare professionals, insurance companies, pharmacies, and diagnostic centers is faster and more traceable, reducing missed messages and follow-up calls. Integrated scheduling that is linked to patient record, automated coding, and insurance claims helps to streamline office management.
All of these EHR features save time, which leads to increased productivity.
Better Patient Care
As previously stated, what is good for healthcare professionals is often good for patients as well. Access to a patient's complete records eliminates the need to fill out the same documents at each doctor's or specialist's office. Every provider can see which diagnostics a patient has had, as well as which treatments were successful, and which were not.
Because the findings and images are all in one place, patients are less vulnerable to duplicative screening or imaging procedures. Better provider coordination leads to more accurate diagnoses, improved chronic condition management, and better overall patient care, which ought to be the primary focus of healthcare provision.
How to Choose the Right Hospital Management System or Electronic Health Record for Your Organization?
A hospital management system or EHR software aims to improve efficiencies in the medical industry, so it must be present at all stages of the healthcare process.
So, before choosing an HMS or EHR software, consider the following
Derive objectives
Identifying Solution
Request a Demo
Cost & Budget
Know the difference between On- Premises & Cloud based software
Training
Reports
Support & Update
For more detailed tips and key features read https://ezovion.com/things-to-know-before-choosing-hospital-management-system/
These above considerations will give you a clear picture of what you want and help you to choose the right platform.
Conclusion
Still Wondering which modules to pick for your practice?
We have years of experience in health technology solutions. Ezovion assists healthcare organizations in overcoming every challenge on their path to developing an outstanding hospital management system and EHR Software. 
————————————————————————————— ————————————————————————————— —————————————————————————————