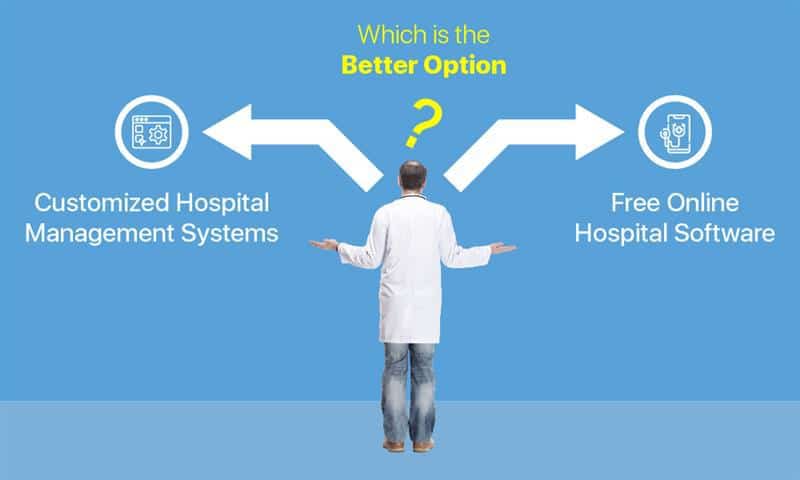 Over the last decade, health IT has progressed from an administrative tool to a clinical tool for improving healthcare quality and efficiency. The Internet of Things (IoT), cloud, big data, and artificial intelligence are among the cutting-edge technologies that have made their way into the healthcare industry, and the rapidly expanding scope of information shared has created a need for widely supported software development tools and technologies.
In this article, we are going to explore which option is best for healthcare facilities.
What are Customized Hospital Management Systems and Free Online Hospital Systems?
Customized Hospital management System-
A hospital management system is a well-organized centralized system that is built and programmed to handle day-to-day operations and hospital activity management.
The hospital management system may manage inpatients, outpatients, records, treatments, illnesses status, pharmacy billings, radiology billings and lab billings. It also stores hospital information such as patient demographic, clinical data, patient vitals, case sheets, visit history ward identification, doctors in charge, accounts and department administration.
In a nutshell, the Hospital Management System (HMS) delivers an intuitive approach to managing the entire hospital and securely dealing with every challenge.
Hospital management system strives to simplify clinician workflow, minimize administrative expenses, eliminate errors, and provide a better patient experience. However, because the system manages every department or branch of the hospital, it encompasses a wide range of functions.
Free Online Hospital Systems
Free Online Hospital System AKA Open-source software is defined as solutions with open – or publicly accessible – source code. This means that anyone can view the source code and modify it for their own purposes.
With online free software, healthcare businesses can use the latest technology at a lower cost and gain benefits such as tracking patient data, visits, hospitalizations, medicines, and lab results to support the hospital staff's day-to-day activities. Free hospital information software might not be secured, might not be able to get your databased backup, you and your patient data might be sold in the market for profit.
Comparing Free Online Hospital Management Systems to Customized Versions
| | | |
| --- | --- | --- |
| Sl No | Customized Hospital Management Systems | Free Online Hospital Management System |
| 1 | Customized Hospital Management System is computer software in which the source code is not publicly available and can only be modified by the firm that built it. | Free Online Hospital System is a piece of computer software whose source code is freely available on the internet for programmers to alter and use. |
| 2 | The software is produced and tested by the individual or organization that owns it, not by the public. | Here, open collaboration is used to design and test software. |
| 3 | The source code in Customized hospital administration system is protected with security systems. | Here, the source code is public, unsecured |
| 4 | To install and use a customized hospital management system, users must have a valid and authenticated license. | To install or use this software, users do not require an authenticated license. |
| 5 | Full Intellectual Property Protections | Limited or no Intellectual Property Protections |
Advantages of Having a Customized Solution for Your Unique Needs
The primary advantages of adopting a customized Hospital Management System are that they can aid in establishing growth and revenue, optimizing productivity, simplifying processes, and so on. The primary goal of a customized hospital management system is to make hospital operations paperless and digital.
Online Appointment Booking-
Book patient appointments, plan your appointments, and generate 24/7 reservations from your website using the calendar plugin. Automated communications (via SMS/WhatsApp/) can be delivered to patients from booking, appointment reminders, and notify about report status and delivery.
Additionally, customized templates are used for communication-based on preferences for instant and secure message delivery.
Intelligent IPD, OPD, Ward Management
Ward management, patient treatment, real-time patient medical records monitoring, admission, discharge, and transfer may all be done digitally with a customized Hospital Management System. These will save time and money in terms of human resource management.
In addition, unique services such as ward Management Admission, Discharge, and Transfer are available. The hospital management system will handle real-time patient treatment monitoring, tracking patient medical records, and real-time medical record updates.
Hospital Asset Management
You may receive a bird's-eye perspective of your machine work transparency and equipment maintenance operations, status, and asset budgets. You may also keep track of the activity status of all your machines or equipment, making it easier and more advantageous to the hospital in the long run.
Enhanced Data Security
Another key benefit of a Customized hospital management system is improved data security. Because all services are provided via a secure system, only authorized individuals are given access to the specific collection of data.
Furthermore, everything in a cloud-based hospital management system is interconnected, guaranteeing there are no risks of data loss in the patient's medical history or the user's condition information remaining completely protected.
Advanced Billing and Cashless Payment
Hospital management system provides a comprehensive and integrated means of managing all aspects of hospital billing. Aside from standard medical billing, an online billing module includes many advanced features such as invoice, payment, outstanding, and advanced online payment gateway integration. A meaningful understanding of advance billing helps to drive your practice and aids in future planning. Access real-time revenue data from anywhere anytime.
Increased Revenue and Growth Management
If you want to maintain your hospital running efficiently or perform more tasks and duties manually, you will undoubtedly want hundreds of qualified personnel. However, more employees mean higher long-term costs for your hospital.
However, with the help of an intelligent cloud-based hospital management system, you can substantially decrease your organization's workforce strength. Because the hospital management system will handle all operations, you will not require as many employees as traditional hospital management.
Access to Real-Time Data
Because a hospital management system is a centralized hospital database management software solution for medical professionals, administrative staff, and other employees, all of them can access data in real time and make the best decisions possible.
Reduce Operating Costs
Keep everything in one place if you want to optimize the hospital's workflow. You may save time and eliminate needless paperwork, which speeds up processing and lowers administrative costs. Hospital administration software allows for digitally reported expenses, as well as time access and daily account tracking.
Most individuals nowadays rely on computerized and digital systems rather than manual ones. It typically fosters a high level of trust in the procedures and structures. Even though the operations are managed by technology, it is possible to preserve connectivity with patients and systems.
How to Choose the Right Customized Hospital Management Systems for Your Needs
Hospital management systems can provide a more focused environment for hospital personnel, doctors, patients, groups, and workflow management. They can provide solutions and even the ability to unite legacy applications and objects from other systems, as well as handle a large number of user requests, resulting in an unrestricted flow of information between employees, doctors, and patients.
Consider the following before selecting a Customized Hospital Management System (HMS)
Identify the precise requirements based on the functionality of your healthcare facility.
Consider a provider who offers end-to-end solutions to serve various medical practices and department responsibilities.
With a Demo, you can determine whether the Hospital Management System will be continuously beneficial to your facility and patients.
Determine your budget and overall cost, which should include installation, training costs, annual renewal, and maintenance and updates.
Know the difference between On- Premises & Cloud based HMS
Details of training provided by the HMS provider
Checkout the responsibilities, roles, on-site and off-site support, and updates provided.
For more in-depth tips and essential features, Visit https://ezovion.com/things-to-know-before-choosing-hospital-management-system/
Conclusion
There is no way around a hospital management system if you want to make your hospital one of the most preferred and highly regarded by patients. Furthermore, many Medicare and insurance companies rely heavily on electronic data, which is only possible if your hospital has an automated system in place. It is one of the most important quality metrics for revenue growth.
Consult with our specialists Request a demo of the Ezovion Hospital Management System.