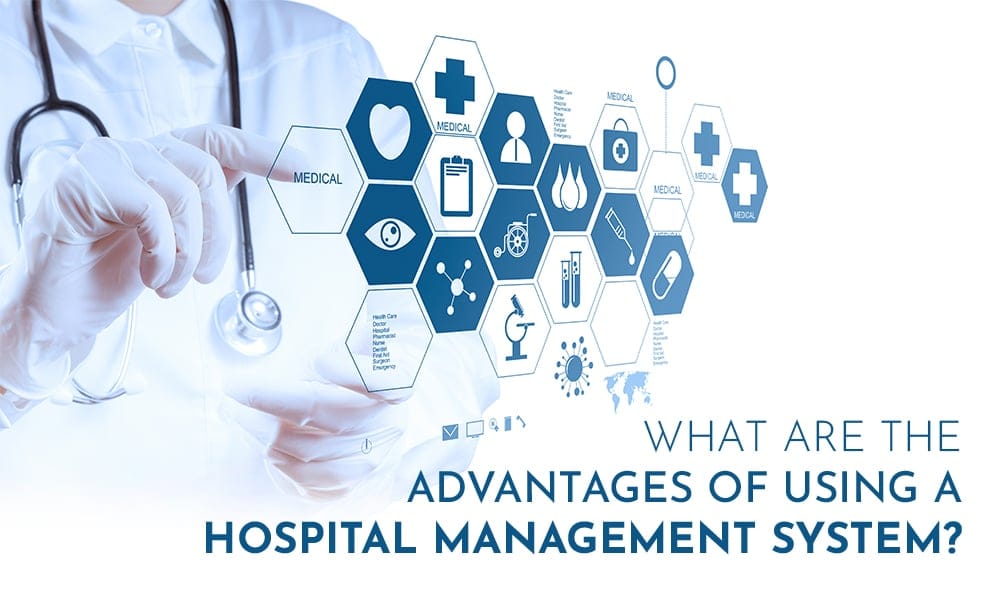 What is Hospital Management System?
Hospital Management System (HMS) is an advanced software system which is designed to handle the day-to-day tasks of hospital and clinical workflow via digital documents and demographics, medical, financial, legal, compliance, administrative, healthcare performance, and patient engagement data.
A hospital management system is an essential system for supporting hospitals in managing and improving their patient care processes. It can assist providers to optimize how their resources are spent, which is an important factor in today's highly competitive healthcare industry. The hospital management system is of two types, cloud-based and on-premises. Many hospitals use hospital management systems to help manage patient care and profitability.
What are the Key Features of Hospital Management System?
Outpatient Management System
Impatient Management System
Emergency Management System
Ward and Operation Theatre Management System
Hospital Inventory Management System
Hospital Asset Management System
Pharmacy Management System (PMS)
Laboratory Information Management System (LIMS)
Radiology Information System (RIS)
Picture Archiving and Communication System (PACS)
Communication Management System
Blood Bank Management System
Patient Portal or Patient Mobile App
Health Workforce Management System

Key Features of Hospital Management System:
Here are the must having key features of the hospital management system which can help you to regulate your day-to-day hospital functionalities.


Patient Registration
Hospital Management Software should let front-desk employees swiftly register patients, produce Unique Hospital Identification IDs, or UHIDs, and book doctor appointments. Patient registration should include information such as the patient's name, demographics, insurance, Aadhar card, attachments, and so on.
Appointment Management
A hospital management system's appointment scheduling feature supports the effective booking of patients' appointments with doctors via the website, mobile App, or direct. It provided nurses and doctors with a real-time view of all available time slots, allowing them to allocate appointments accordingly.
Queue Management
A robust end-to-end integrated hospital queue management system aids in the control of your outpatient department''s patient flow and the reduction of waiting time using auto-generated token number.It also allows for real-time screen casting and notification handling in a simple and seamless manner.
IP & OP Billing
A hospital management system with built-in billing software is a critical choice for ensuring your healthcare facility's financial stability. A fully automated system captures and calculates invoices from every department, saving you the time and effort of searching through each department for pending payments or scenarios.
Electronic Health Record
Integrating electronic health records with hospital administration systems aids in standardizing and preserving patient health records in a secure, practice-friendly approach EHR records lab orders, radiology orders, prescriptions, medical history, medical documents and various other details.
Ward Management
A hierarchical ward structure of what is essential for effective inpatient management. Integrated ward management in tandem with an effective hospital management system allows nursing personnel to monitor all wards on the same level and streamline hospital operations. You can manage rooms, operation theaters, ICUs, recovery room and the facilities you offer for inpatients.
Blood Bank Management
Blood bank management in the hospital aids in blood donor onboarding management, tracking, providing timely and accurate reports when needed, and centralized data storage with security. It keeps all records related to blood donation, such as donor details, expiry dates, and an immediate search for the patient's required blood group.
Operation Theater Management
Operation theatre management in a hospital management system provides efficient utilization of all surgeries that can occur in the institution. From the scheduling operation to supervising the surgery team and recording the surgical information in the surgery checklist. It plans of time and prepares for surgery or operation by keeping track of all objects needed throughout the procedure. Helps in building OT notes, billing and other OT processes.
Patients Vital Tracking
Patients vital tracking solutions give you the knowledge you need to better detect, predict, and treat inpatient needs across the continuum of care. It also enables hospitals to make informed decisions based on accurate patient vital data. All vital data can be viewed in a chart form for better visualization.
Reports & Analytics
The hospital management system's reports and analytics feature saves time by gathering data from various platform areas and displaying it in a useful format for administration and clinical staff. Quality reporting aids in guiding decision-making regarding staffing requirements, budget allocation, workflow compliance, and whether and by whom the goals have been achieved.
Custom Reports & Templates
When a hospital management system offers prebuilt custom templates, it makes it easier to quickly and accurately record important data. This frees up the hospital staff's valuable time, which they can use to provide better patient care. With this tool, discharge summaries can be produced in less than 15 minutes.
Communication Management
Built-in communication tools make it easier for physicians to interact with and engage patients. We can send reminders for booked appointments via SMS, WhatsApp, or e-mail, and even leverage EMR and hospital management system integration to stay in touch with patients.
Role Based Access
Innovative role-based access management system a structured approach to improve the effectiveness of user access control. Improves the hospital's security in every way, including compliance, privacy, and confidentiality. On a cloud-based healthcare platform, hospital administrators may simply tell the responsibilities and capabilities separately.
Laboratory Management
Your lab's productivity, efficiency, throughput, data integrity, and compliance will all be improved by an extensive choice of laboratory information management systems and automation solutions. It can automate all of your lab procedures and eliminate inaccuracies using our software, allowing lab personnel to focus on providing superior care to patients.
Pharmacy Management
A pharmacy management system aids in the automation of the pharmacy workflow. This includes analyzing physician prescriptions, preparing drugs, monitoring inventories and making drug orders, billing and insurance, and more. By integrating inpatient and outpatient with pharmacy management software, Doctors can make the E prescription and transmit it immediately to the pharmacy, ensuring that the order is never lost or misunderstood, and that the dosage is always accurate because the potential of human error is reduced.
Multi Location Support
A hospital management system with multi-location supports aids hospitals in managing human resources, financial resources, and administrative processes throughout the hospital in an efficient and effective manner.
Mobile Apps
A healthcare mobile app makes it very easy for patients to contact their doctors, and vice versa, it is highly fast and simple to book appointments, make secured payments and schedule with the system. Patients can be tracked and monitored utilizing mobile devices, tablets, and wearables, and both patients and healthcare professionals can benefit from a proper diagnosis at the right moment. Single click phone call feature from mobile app for better and faster patient engagement.
Patient Portal
Patient portal offers a better patient engagement and transparent transfer of information between healthcare organizations and patients. The portal includes view and update of the profile vitals heartbeat blood pressure temperature etc. We can view our history and current and past prescriptions, lab and radiology reports and more. Make doctor's appointment and make secured payment from patient portal.
HR Management
Human resource management solutions connected with hospital administration systems aid in personnel recruiting, onboarding, training, payroll processing, attendance monitoring, and more. It enables healthcare organizations to handle various aspects of the employee life cycle more effectively.
On-premises & Cloud Based Support
A hospital management system should provide SaaS-based IT services and safe and highly available healthcare IT solutions. They must also manage data migration processes on both cloud migration and on-premises support without causing any inconvenience.
Application of Hospital Management System:
Hospitals benefit from data management software like the Hospital Management System (HMS) due to their complex data, processes, and large number of individuals involved.
The HMS enables hospitals to operate efficiently, deliver high-quality care, maintain patient confidentiality, and ensure seamless operations.
Advantages of using a Hospital Management System include reduced human intervention, decreased paperwork, optimized staff utilization, faster processes, minimized errors, and enhanced data privacy and safety.
The HMS allows hospitals to track patient history, improve care provision, manage appointments, store insurance and payment details, facilitate access to patient records by doctors and clinicians, ensure care continuity, and eliminate the need for repetitive registration.
Hospital records can be easily audited and kept compliant with policies and laws using the HMS.
The Hospital Management System proves to be cost-effective by reducing manual entry, paperwork management, and filing errors.
Customizability is a key feature of the HMS, allowing it to be tailored to the specific needs and requirements of each hospital or healthcare facility.
What are The Benefits of a Hospital Management System?
Manage multi-location healthcare facilities.
Digitally document patients' demographic data for better service, hospital billing and patient engagement.
Digitally document medical records to reduce errors, retrieve data faster, save time and money
Electronic pharmacy, pathology lab and radiology orders.
Document records each data in detail and accesses it across all the departments.
Provides faster access to patient visits, medical and billing history.
Improves hospital staff's efficiency.
Manages hospital facilities, assets, and stores efficiently.
Manage hospital inventory and access to real-time stock.
Hospital management software is a cost-effective approach for accounting, health insurance processing, filing for taxes and more.
Hospital management system software enhances your market strategies and provides better control.
Automate repeated manual processes to save time.
Improves data encryption, and security and protects patients' privacy.
No data loss
Opportunity for data analytics for deeper insights and clinical outcomes
Conclusion
Hospital Management System provides a more collaborative environment for hospital staff, doctors, allied healthcare professionals, patients, and workflow management. Furthermore, it optimises and digitises all the organization's activities, which improves customer service, lowers operational expenses, and simplifies the search for medical data, payments, patients, and physicians.
Considering all these reasons, if you want your hospital to develop and outgrow its competition, get a smart HIMS. Give it a try to Ezovion HIMS services to get advanced software assistance.
Book a Demo today!