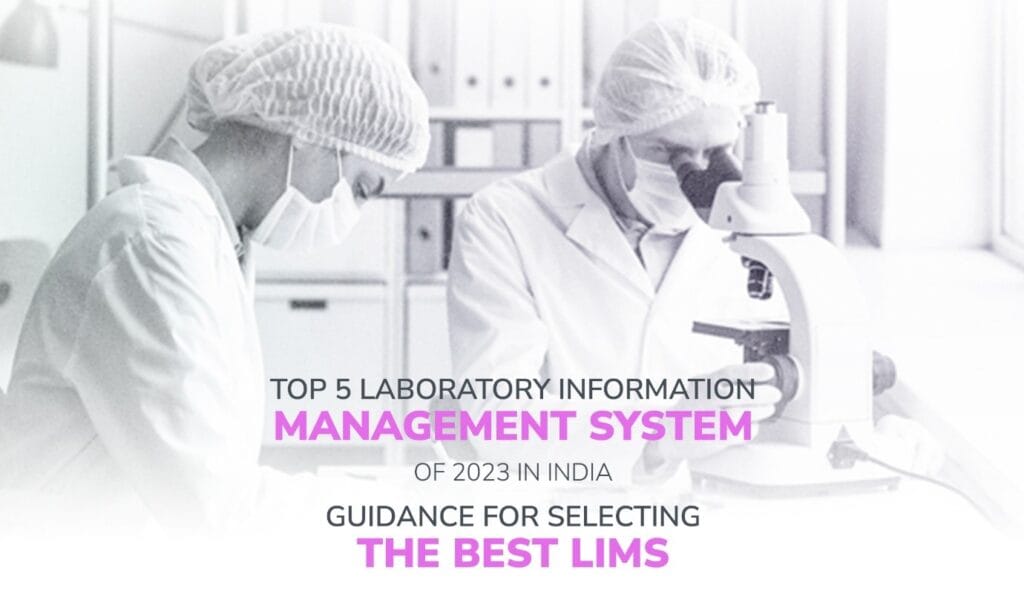 Over the past few years, the demand for laboratory information management system (LIMS) has grown. A major factor in improving workflow efficiency in diagnostic healthcare laboratories was their adoption of lab management software. The LIMS platform gathers, processes, and stores data created in laboratories. It is capable of managing huge amounts of data effectively. Since its inception, LIMS has evolved from automating experimental data to a digital centre for laboratory activities. 
In a survey by Astrix with multiple organizations that had implemented lab management software nearly 77% of respondents said their laboratories had deployed LIMS across their organization. A number of workflow efficiencies have been demonstrated by LIMS, according to the study. As 61% of LIMS users reported a significant increase in productivity due to the elimination of manual processes, 57% observed significant improvement in sample management strategies, and 46% observed significant improvement in their laboratory productivity. (1) 
Why is Lab Management Software (LIMS) Needed? 
As sample volumes increase, laboratories need to become more efficient. Moreover, laboratories are handling more sensitive samples, so lab management systems need to include functions that enhance safety. 
A laboratory information management system (LIMS) selection is crucial for your organization. Most errors in laboratories and laboratory information systems stem from incomplete user requirements.
Features That Influence Your Decision-Making
Process While Selecting Lab Information Management System (LIMS) 
There are three main aspects that describe the best decision-making in terms of LIMS selection. Let's check the below-mentioned diagram. (2) 
Vendor's reputation and brand awareness- 67.79% 
Application Support- 62.67%  
Value of vendor's product with the current system- 74.45% 
Along with these points, one must consider a multilocation support system for clinics or hospitals. To achieve these, providers must go for integrated solutions or solutions that provide overall HIMS facilities, as Ezovion HIMS integrated with Ezovion lab management software. However, as diagnostic centres and hospitals always need to purchase lots of consumables and equipment, they need inventory and purchase management software as well. Planning with fully integrated software will always be a win-win situation. 
Know the best and fully integrated HIMS services by Ezovion click here. 
Fig: What was the most important factor in selecting your current LIMS? (2) 
What are the Points to Be Considered While
Choosing Lab Management Software?
Have a look at this statistical data, according to the survey carried out by Astrix the lab management software must be 49% better fit the requirements of an organization whereas, 15% of cloud-based LIMS is preferred and 8% of software selection depends upon the price of the lab software. Flexibility IT platform and scalability of the product comprise 5% while recommendation and easy installation procedures conclude 4% preferences and other factors are 10%. (1) 
Fig: What are the most important factors in selecting your current LIMS? 
(Response of a question asked in an Astrix survey report) (1) 
Ezovion- Laboratory Information Management System (LIMS)
The Ezovion hospital management software is suited for all healthcare providers, including outpatient clinics, multi-speciality hospitals, super-speciality hospitals, rehabilitation centres, nursing homes, and chains of hospitals and clinics. 
Ezovion's full laboratory information management system suite is committed to improving your lab's productivity, efficiency, throughput, data integrity, and compliance with our complete suite of laboratory information management system and automation solutions. With our intelligent software, your staff can focus on providing quality patient care by automating processes and eliminating inaccuracies. 
Features 
Sample Routing (Department Wise Routing) 
Processing (Manual/Automation) 
Analytics (TAT and Other Reports) 
Ezovion is also known for their best security and privacy maintenance as data privacy is most critical, especially in healthcare industry. We understand the importance of data security, as well as backup maintenance.  
Why is Ezovion Hospital Management Software Safe and Secure? Check our blog for better understanding. 
List of Top 5 Lab Information Management Software (LIMS)
1. Sufalam Solutions Pvt Ltd 
Sufalam solutions have an automated workflow for lab management software facility that helps customers integrate the instruments of laboratories with their software. This also helps to manage samples and information quickly. Along with sample management, they have phlebotomist management, sample registration, and billing with a location tagging facility. Proper machine integration is there with uni- bidirectional interface. Sufalam solutions have unique modules for specific specialities such as histopathology, cytology, microbiology, genetics, and molecules. Along with that, they have a mobile application for the management of stakeholders.  
Features:  
Complete sample collection management either from home or from the hospital 
Uni-Bidirectional Interface 
Error code capture & Display 
MIS reports for various departments 
Mobile app for all stakeholders 
2. Attune Lab Information System 
Using Attune LIMS Workflow Manager, the technicians can track samples in real time as soon as they are collected and barcoded. Attune LIMS features a unique batch sheet-based sample tracking model for sample management. Using this lab management software, you can integrate all of your lab equipment and devices into one secure platform by automatically transferring data from the device to the lab information management system, reducing laborious manual effort, saving time, and reducing human error. 
Features:  
Billing Sample Registration 
Client Management, Invoicing & Credit Control 
Pre-analytical Sample Tracking 
Lab Decision Support System 
Ancillary Analytical Workflows 
Report Printing and Dispatch 
Central Device Monitor (Mini-Middleware LIS) 
Pathologist Authorization 
Sample Storage and Archival 
Inventory Consumption & Reagent Tracking 
System Administration Controls 
Lab Management Information System Reports 
3. CrelioHealth Laboratory Management Software 
The CrelioHealth Laboratory Management Software has lab information management system which is cloud-based & offers real-time data visibility. This company has an easy-to-use interface compared to any traditional medical diagnostic software company worldwide, making it one of the best lab management system companies. As part of its post-sale support, the firm can help set up your diagnostic lab, train your staff, and troubleshoot any problems you may encounter. 
Laboratory information management system from CrelioHealth complies with HIPAA, ISO 27001:2013, SOC II, GDPR, and other world-renowned compliance standards. As a result, data storage is highly secure and private.   
Features:  
Improve Patient Experience 
Streamline Business Operations 
Optimize Costs for Inventory 
Track & Set Better Financial Flow 
24/7 Dedicated Support from Experts 
4. LabWare Software Company: 
LabWare's Enterprise Laboratory information management system platform is a unique and proven suite of product capabilities that encompass LIMS (Laboratory Information Management System), LES (Laboratory Execution System) and ELN (Electronic Laboratory Notebook) all in one integrated and enterprise-ready package. Whereas, LabWare has proven its value by exceeding expectations on projects of all sizes, local and global, routine and complex. The LabWare SaaS lab management software is cloud-hosted and available on any device or browser. In addition to its rich feature set, LabWare comes pre-configured with pre-validated best practice workflows, making it easy for users to get started quickly. 
Features: 
Portal for External Stakeholders 
Training and Analyst Certification 
Data Search, Visualization, and Analytics 
5. Apex Healthware 
Apex has provided easy-to-use, affordable Laboratory information management system to doctor's offices, commercial laboratories, reference laboratories, hospital laboratories, and veterinarian clinics for over 15 years. It can easily accommodate your workflow requirements if your lab uses cloud or ground-based systems! The software includes core LIS components that support plug-in modules in microbiology, genetics, pathology, and toxicology. 
All versions of Apex's laboratory management system come with a comprehensive compliance module that ensures compliance with all regulatory and manufacturer requirements. 
Features: 
Results Reporting & Delivery 
Conclusion:  
In this article, we have discussed the best LIMS software for the year 2023 in India. A business owner should, however, be familiar with these softwares before attempting to develop a lab management system (LIMS). With an understanding of all the popular laboratory information management system, you can now create your own LIMS. 
If you need help with laboratory information management system development, just contact a well-known LIMS software development company. So, what are you thinking? Choose the best firm that can help you with all of your needs, Ezovion solution not only have LIMS assistance but also can help you in overall HMS integration. Want to know more? Avail your free trial now! 
Laboratory Information Management System | LIMS Software (ezovion.com) 
Best Hospital Management System Software in India | Ezovion 
Data Sources: