The healthcare industry has taken a radical shift. Technology has added a layer of efficiency to healthcare that has shortened the barriers of healthcare management and delivery. With the power of technology, providers are now able to dig insights from the raw patient data that conventional healthcare wasn't able to capture. The insights derived were able to minimize errors, pave way for accurate diagnosis and address several healthcare challenges – all leading to raising-the-barfor better patient care.
Hospital Management- Paving way to digital health
The world has moved to digital and so did healthcare. Health Information stored in paper records or paperbacks could only be filed and lost in the piles. Providers weren't able to draw any value from patient health information which led to miscommunication, misdiagnosis and faulty health delivery. True healthcare is to understand a patient's health state from the past to the present and then offer treatment for the future. Digital health fills the gaps by helping providers store data easily and make sense of their health history.
Healthcare Management software is one such healthcare platform that aims to simplify management. A hospital management system (HMS) is a computer or web-based system that facilitates managing the functioning of the hospital or any medical set up. This system or software will help in making the whole functioning paperless. It integrates all the information regarding patients, doctors, staff, hospital administrative details etc. into one software. It has sections for various professionals that make up a hospital.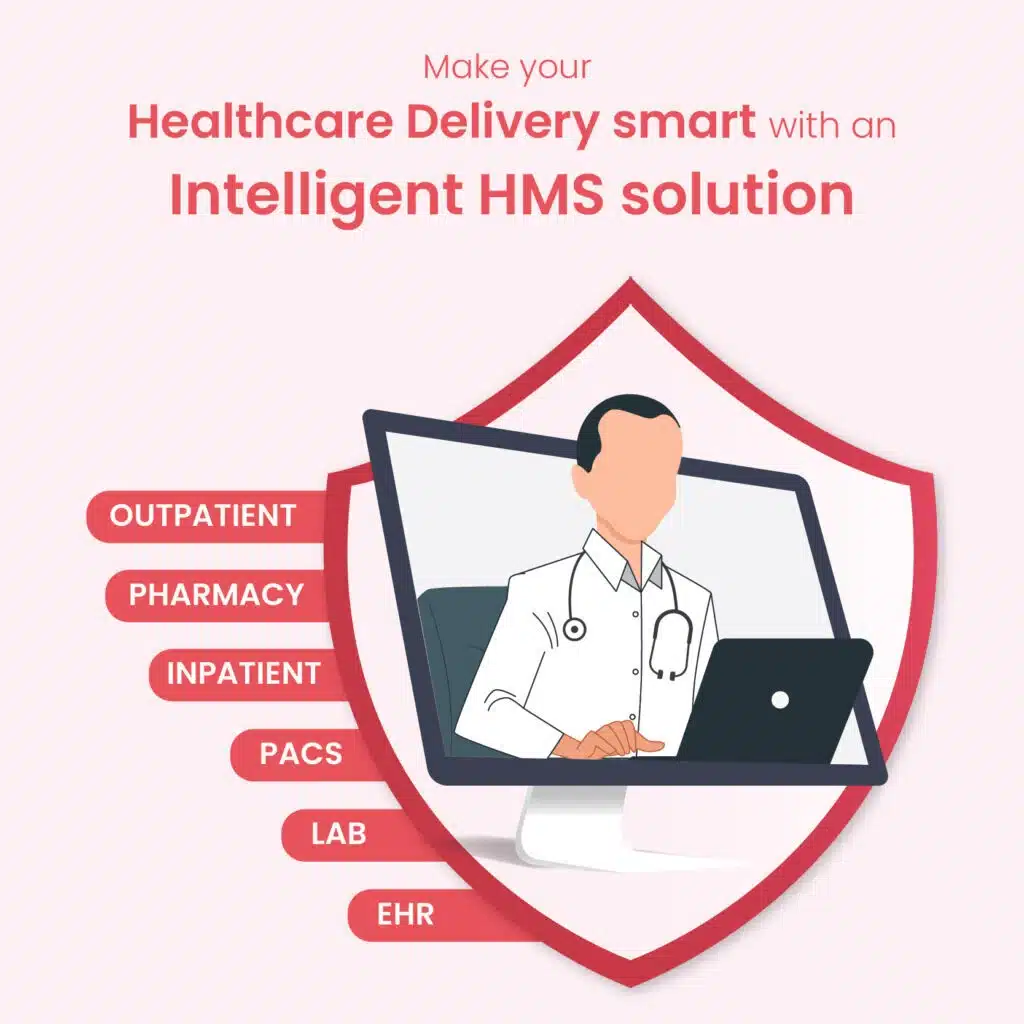 How is Ezovion Hospital Management different?
Hospital management software isn't a new concept and there are several better versions of it competing with each other in the market. While most HMS primarily focuses on database management, few focus on streamlining workflows and other on exchange of data.The best version of an effective HMS is which unifies, interlinks and integrates everything in one single platform. Ezovion offers such key differentiators with an aim to deliver Intelligent healthcare. We have a team of technology and healthcare experts who have studied the healthcare scenarios, analysed the gaps and point-of-care scenarios and built solutions it with our strong technical expertise. Ezovion offers an easy-to-use healthcare management that performs the following disparate functions and more:
Storing/ managing of patient data
Streamlining workflows/ workloads
Capturing patient data from different sources and merging it in a meaningful way
Collaboration and communication between the hospital staff
Management of drug inventory
Hospital administrative tasks
Database management and more.
Ezovion reduces manual work and automates most hospital operations process like patient medical history, hospital administration, Tracking Billing system, registrations, drug management, and more. It has an intuitive easy-to-use interface that's self explanatory and navigates you to the next steps effortlessly. Rather than you working on it, it works for you with the intent of delivering possible results for hospitals, clinics, labs, and patients. Need reasons for why you need to choose Ezovion? Read on:
Cost-effective:
Hospital Management is overlooked. There lies a huge investment for managing staff along with other stuff. Despite this, there is no guarantee that the hospital administration information and patients data is robust and 100% secure.
For scaling down all these workloads and cost, Ezovion offers a complete HMS with all functionalities and modules at reasonable prices for Hospitals and Labs. It helps hospitals to easily manage their work and protect patient's health records without hiring more staff.
Easy Access:
The Ezovion HMS saves all the data related to patients and administration like health records, bill payments, Appointments, Test results, and diagnosis copies. The system allows authorized users to easily access the data anywhere with a high degree of security.
Data Security:
Hospitals, clinics and medical centres depend on manual works and as a result are exposed to chances of misleading data compared to automated ones. An automated HMS captures all the essential data in your hospital system, and secures it with authentication procedures. Our HMS meets all the compliance protocols out forward by government and guarantees 100% data security.
Online Appointment:
The Ezovion HMS is a trusted platform in serving the patients. It eases the doctor appointment process and allows people to book their appointments online in a convenient time. The doctors without delay to impart the right diagnosis for patients.
Department Management:
Inter-hospital communication is not given the importance it deserves. Due to the lack of it, there are indirect consequences in healthcare delivery. In another context, hospital administration is taking a backseat and there isn't a transparent view of healthcare processes known to the administrator. Ezovion offers smart solutions pertaining to administration, communication, collaboration with minimal human interaction.
Are you interested to make the most of your hospital management? Try Ezovion HIMS and experience the difference.