Ezovion, an intelligent healthcare system with the most advanced and integrated end-to-end platform in the healthcare industry and provides a seamless ecosystem that intelligently drives your healthcare operations. An evolving intelligent Healthcare Service Experience from Ezovion supported with Artificial Intelligence and Machine Learning features eliminates the existing silos healthcare systems drawbacks and provides a comprehensive holistic healthcare ecosystem.
Why Ezovion Healthcare System?
· Ezovion healthcare service offers strategic healthcare solutions, focusing on the NABH, NABL compliance, clinical and financial audit services.
· Patient engagement is made easy with Ezovion Outpatient Management Software. Provides a comprehensive Electronic Health Record to view complete patient data for efficient patient care, higher productivity and improved patient outcomes.
· An End-to-end integrated Ezovion Inpatient Management Software transforms complicated IP process with Electronic Health Record (EHR) templates.
· Ezovion comprehensive software solution streamlines entire workflow, seamlessly integrated with appointment scheduling, clinical therapy planning, patient engagement, invoices, billing and refund.
· Ezovion offers secure, easy to use Lab Management Software to make lab orders, tracking status and getting results.
· Ezovion IP has Admission, OT, ICU, Ward management with robust Electronic Health Record to capture surgeons, Anesthetist, Nurse Notes and much more.
2. Ezovion provides an End-to-End Integrated Solution:
Ezovion has built a strong healthcare platform with healthcare industry experts, Doctors that will serve you well now and the future practice. A plug and play solution is designed to streamline the clinical, compliance, financial and operational workflows for better outcomes.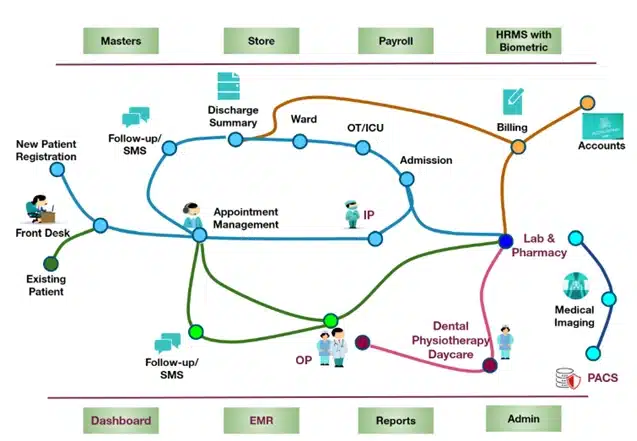 3. Services provided by Ezovion
· Consultancy service: Ezovion healthcare service delivery team offers strategic healthcare solutions focusing on the NABH, NABL compliance, clinical and financial audit services. Ezovion offers consultancy services for obtaining NABH accreditation for hospitals, clinics and NABL accreditation for testing, calibration labs and medical diagnostic labs. Our robust problem-solving framework, cutting-edge methodologies, deep healthcare expertise across compliance, clinical and financial domains.
· EMR Services: Ezovion offers scan, index and categorizes patient records. An EMR indexing team has extensive experience in indexing of patient's health records into the EMR database.
· Advisory Services:
a. Analysis: Conducts deep-dive analysis on your manual hospital management and publish a detailed report
b. Design: Design customer fit HMS, lab, Pharmacy or other healthcare IT solution to optimize staff cost
c. Revamp: Conduct gap analysis on your current system and provide a custom solution to fill the gap
d. End-to-end solution for hardware, software and funding needs.
e. Optimized patient care and revenue.
4. Ezovion Products: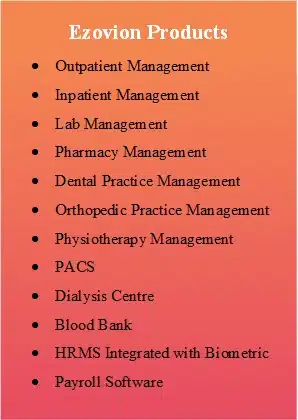 Ezovion provides a complete eco-system for healthcare services. It ensures data security, confidentiality and privacy of health-related personal information. The cloud services provided by Ezovion enables access to centralized data. A well-defined and actively functioning healthcare system is the need of the hour to provide timely access to an individual health-related data, Personal Health Records (PHR) for providing effective healthcare services and responses to the patients.
5. Need for an intelligent integrated healthcare system:
As the pandemic disease caused by Covid-19 spreads rapidly in India, there is a critical need for an effective and affordable healthcare system to manage public health. For elevating the existing silos healthcare systems to an integrated digital healthcare system and to make healthcare more efficient, effective and affordable a robust healthcare service is imperative.
Fortunately, in this regard, India has made healthcare blueprint ready for its citizens and going to implement it just at the right time. The National Digital Health Blueprint (NDHB) for India citizens is created to provide a centralized digital repository through its health insurance scheme Ayushman Bharat. This blueprint signifies the need of complete healthcare ecosystem that creates a database of public health-related information and it links the systems across public and private healthcare service providers at state and national level with access to Metadata and Electronic Health Record (EMR). The National Digital Health Blueprint was prepared for the National Health Stack (NHS) proposed in 2018 by the NITI Aayog, can bring an evolution in the Indian healthcare system. Hon'ble Prime Minister of India, Shri Narendra Modi is likely to announce the blueprint to Indian citizens on August 15th 2020. This proposal has received approval from the cabinet and the final decision will be taken on it.
Hence it is the need of the hour to adapt and implement intelligent healthcare systems into your hospital management system. Timely access to an individual health-related data will help in providing reliable, effective and affordable healthcare services and responses to the patients. A digitally integrated intelligent healthcare system supports comprehensive, reasonable, safe and affordable healthcare services through reliable extensive data collection, storing and servicing.
Register Ezovion's free HMS demo Today!